[
Homepage
] - by:
StationPlaylist.com
-
Download links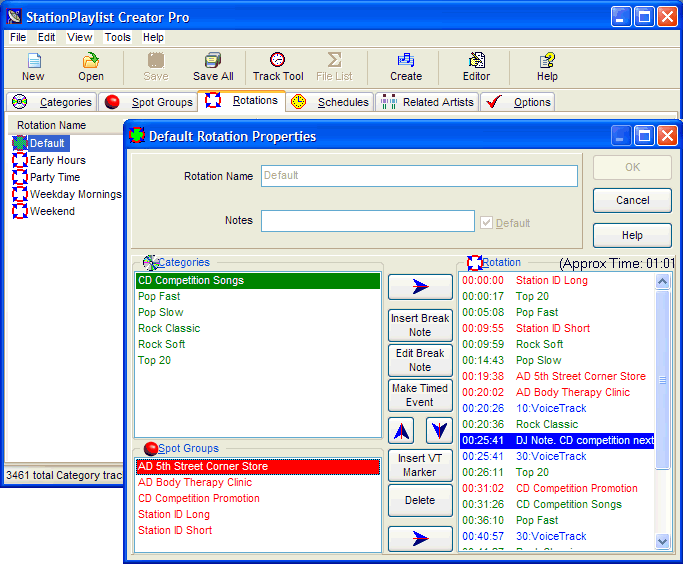 Click to enlarge
Description:
A low-cost music/spot scheduler and playlist creator for radio & internet broadcasting. Also suitable for in-store automated music systems.
A user-definable playlist format provides compatibility with most audio players from Winamp through to sophisticated broadcast playout systems, including our own StationPlaylist Studio.
Additional software is included to integrate with the Winamp audio player for a very low-budget automation solution.
Playlists are based on hourly rotations of music categories and spots which may be scheduled for any hour of any day.
Other features include:
# Song & artist repeat protection. Prevents the same song, or songs by the same artist from repeating within a specified interval.
# Generate a personalized interactive HTML playlist for staff or listeners to view upcoming playlists.
# No maintenance of song details required. This is a big time saver when adding new tracks.
# A sophisticated Playlist Editor to view/edit & print the playlist.
# Voice tracking. Record and insert voice tracks in the playlist. This makes your station sound live during automation.
# Automatic song intros/outros. Pre-recorded song introductions can be included along with selected songs. This can help your station sound live without voice tracking.
# Generate Track Summaries suitable for royalty payments. Generate Spot Summaries for billing purposes.
Recent changes in this Minor Update:

Download:
Download links

Price $ 79 /



Purchase - Get it Now