[
Home
] - by:
Mizutech S.R.L
-
Download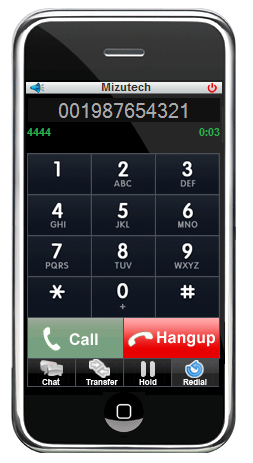 Click to enlarge
Some words about Mizu Webphone:
The Mizu browser Webphone (WebSIPPhone) is a lightweight standard based VoIP phone that can be run from the browsers, embeddable in your website. Based on the industry standard SIP protocol, it is compatible with all VOIP devices and services. It can call any other SIP soft phone (for free charge) or any landline or mobile number via your softswitch or a VoIP service provider of your choice.
The webphone can be also controlled with a simple to use JavaScript API and it is completely customizable. Shipped with 6 free to use skins which you can easily edit or modify (simple HTML and CSS)
The phone is implemented as a java applet/application and it is completely independent platform running on webpages, Windows desktop, MAC and Linux.
It can be used as a normal softphone running on your website or as Skype-like buttons (Click to Call).
The called person can accept the call on a VOIP device (soft phone, IP phone, call-center application) or can be contacted directly on their landline or mobile phone numbers. All usual call routing features can be enabled (call forward, call transfer, etc).
Features includes industry standard VoIP codec (G.729, G.7211, GSM, iLBC, opus, speex wideband) and a VoIP over HTTP tunneling and encryption (optional).
With Mizu-Webphone you can quickly add VoIP capabilities on your website. For example:
* Provide VoIP services right from your website without requiring the users to install any softphone
* VOIP enabled support pages when people can call your support people from your website.
* VOIP enabled forums when members can call each other
* VOIP enabled blogs
* VOIP enabled sales when customers can call agents
News, new features for this Minor Update:
New Opus codec New OGG recording New Video module New AEC module New html skins More flexibility with customization 71 bug fix and improvement

User's remarks, reviews, comments
(
Add your comment / review
)
<!Comments><!Comments>