[
Home
] - by:
Wittybee, Inc.
-
Download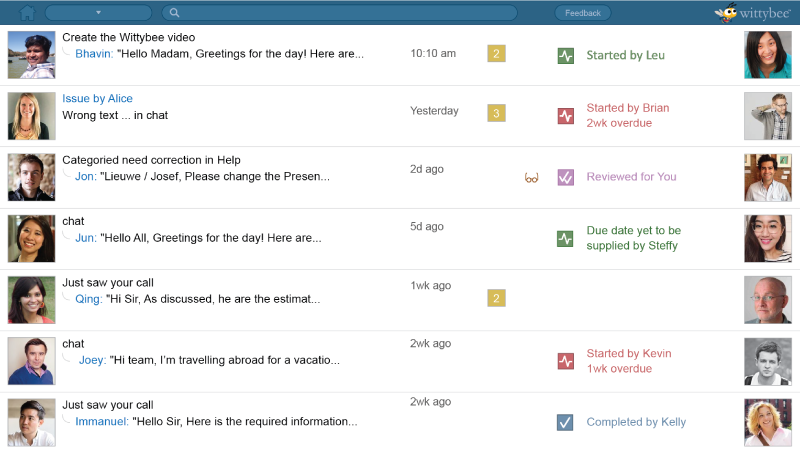 Click to enlarge
Some words about Wittybee:
'Wittybee is your 21'st century team collaboration and project management app, designed to give you the closest experience of working with your teams, just like working face-to-face.
Wittybee empowers you to team-up with your co-workers and clients and easily collaborate on everyday work, manage projects, resolve issues or bugs, provide ticket based support, engage in collaborative learning and more.
With integrated features such as team workspaces, task management, time tracking, synced cloud storage, email integration, video calling, custom workflow, analytics, notifications, reminders, hashtags, @mentions, instant search and more, Wittybee is all you need to work together with your teams.
In addition, alerts and notifications from your other business apps such as ERP, CRM, HRMS and others appear as tasks inside your Wittybee teams via a simple email interface, helping you to assign responsibility and unify communication at a single point.
Wittybee improves quality of work by increased participation of team members and enhances your organization's efficiency and profitability by reducing meeting hours and interruptions at work.
Founded in 2012, Wittybee has operations in USA (Wittybee, Inc.) and India (Wittybee Technologies Ltd.). Wittybee's mission is to empower millions of organizations around the world to boost their efficiency and transform the world economy.
Start your Wittybee experience for free at https://wittybee.com or get your Wittybee mobile app from Play Store or App Store.'
News, new features for this Major Update:
Desktop app : Bug fixes, Compatibility related changes Web app : Task Mute, News View, Mark all as read, Left Panel changes, Language Support in task creation and comments, bug fixes, Performance Enhancement
e.com or get your Wittybee mobile app from Play Store or App Store.'
User's remarks, reviews, comments
(
Add your comment / review
)
<!Comments><!Comments>