[
Home
] - by:
Pelikan Software KFT
-
Download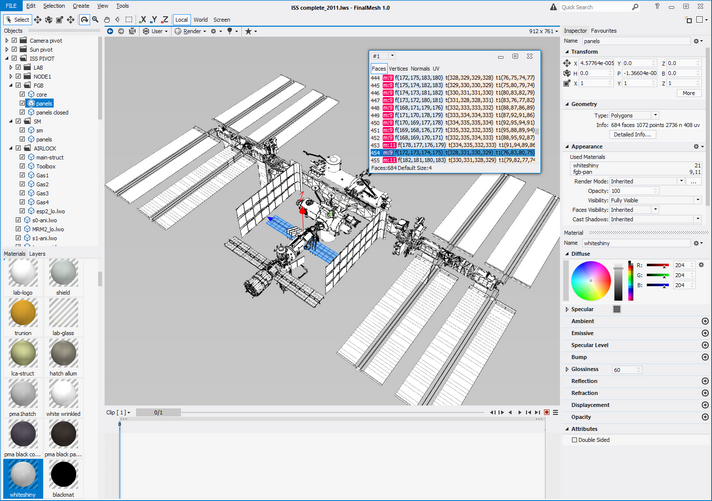 Click to enlarge
Some words about FinalMesh:
FinalMesh is the 3D File Viewer, 3D Thumbnailer, 3D converter, 3DPF Publisher, WebGL Creator.
FinalMesh is the complete software solution for converting and publishing your 3D assets or technical data to 3DPDF, to modern WebGL application or to just another 3D format.
Click on regular "Save As" button will convert your 3D model into complete WebGL HTML application or PDF with 3D content. Conversion is as easy as that. Produced HTML files are ready to be uploaded to your site as ready separate pages or can be inserted into your blog -- WordPress for instance. Of course integration into existing sites is possible.
3D Conversion to 3DPDF includes premade and custom templates, live preview right in export pane with ability to choose best initial point of view. All PDF render modes, light sets are supported. Animation, textures, model views are here as well.
Features include:
3D viewer with many viewports.
Custom render modes.
Fast, modern UI.
3D file browser.
Many graphic primitives and deformers
3D Text
Raytracer
and much more
FinalMesh is a modern and sophisticated 3D Publishing suite.
News, new features for this New Release:
New OpenEXR and HDR file formats,WebGL export - now with texture matrix and custom templates, Many small fixes and changes
pplication or PDF with 3D content. Apart of that FinalMesh is great 3D viewer and converter with fast modern UI. It has many features including custom renders mod
User's remarks, reviews, comments
(
Add your comment / review
)
<!Comments><!Comments>