[
Homepage
] - by:
Chrysanth Software Sdn Bhd
-
Download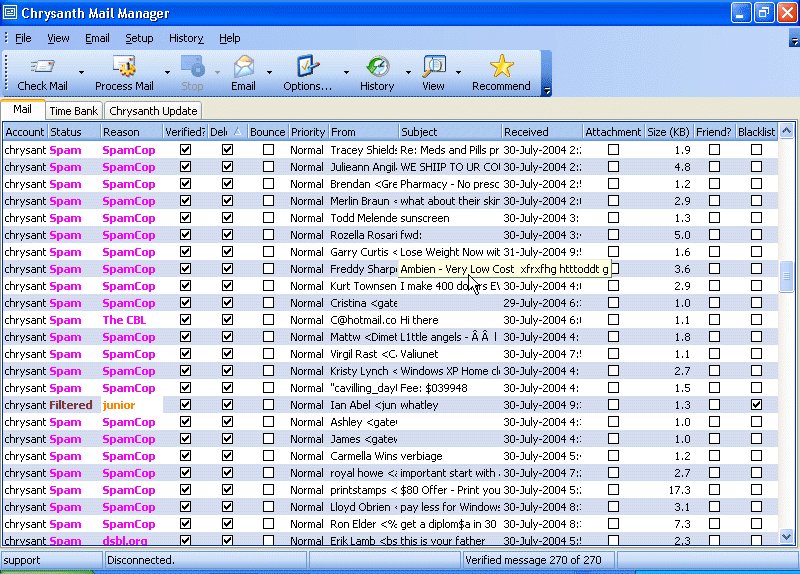 Click to enlarge
Description:
Chrysanth Mail Manager is a very effective email management software to help users keep mailboxes from junk emails. This email management software identifies, filters and effectively stops junk emails on email server from downloading into your local email client. This saves time and resources, conserves bandwidth and makes everyone more productive and email more useful.
Chrysanth Mail Manager is extremely intuitive and easy-to-use. this email management software offers a Startup Wizard to help new users. You can set it up immediately and start enjoying the benefits within 5 minutes upon installation. It has all the features and functions you need to effectively stop all the junk emails that come in each day.
Chrysanth Mail Manager offers a wide range of powerful yet easy-to-use features. Among its features are support for multiple email accounts, support for "whitelists", "blacklists", as well as the ability to bounce junk emails back to those who sent it. The filters are very effective and can be defined by you very quickly. This email management software improves as you use it and so it becomes better and better at stopping junk emails.
Chrysanth Mail Manager also has a number of other handy features including an internal email viewer, which lets you read emails (without executing any harmful JavaScript or virus in the email) before you can see them in your regular email client. This email management software also provides you with analytical graphs and figures so you can better understand just how much junk emails you have successfully stopped each day.
Perhaps best of all, this email management software puts you in control and in charge of your email again, and your mailbox will be as clean as it used to be in the old days before spammers became rampant on the Internet. Try this email management software and see the result yourself.
Recent changes in this New Release:
Adds SSL secure connection support. Adds support for Mail Log export to MS Excel, HTML, XML or ASCII format. Adds an option to automatically run Chrysanth Mail Manager when Windows starts. Adds one more worker thread (total 4 threads) to the mail verification process against external DNSBL server.
User's Reviews, Comments
(
Add your comment / review
)
<!Comments><!Comments>