[
Home
] - by:
Visicom Media Inc
-
Download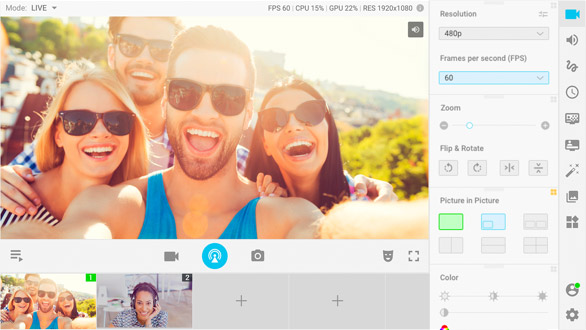 Click to enlarge
Some words about ManyCam for Mac:
ManyCam is a free Webcam software and a screen recorder for anyone to use. Several feature enhancements are included within ManyCam to produce a professional quality live video production. It can connect a desktop, smartphone, tablet and live stream to multiple social media platforms and streaming services simultaneously. It provides innovative solutions to video chatters, gamers, broadcasters, and professionals.
ManyCam's features are:
*3D Masks and Effects: Add some flair to your broadcasts with our new 3D Masks, these masks aren't just flat anymore, they now become part of your face! It uses facial recognition technology to track your facial movements to line up with your webcam effects. ManyCam not only comes with face effects like glasses or masks, it also has filters.
*New modular UI: ManyCam's new layout allows gamers to get to all their favorite tools and features quicker than ever.
*Performance and speed are enhanced. Image quality is now smoother, sharper and clearer than ever.
*New toolbar: Everything will be just one click away with this new design. Once you click on one of the tools, the panel right next to it will open up with all of that feature's options, settings, and tools.
*New Widgets: Move around the 'widgets' inside of each tool and keep what you need most at the top! You will also be able to favorite widgets and keep them in the favorites 'tool' so that you can have all of your most used widgets in one tool.
*During a video conferencing, screencast your desktop live with ManyCam.
*Prepare a tutorial by recording a video of your desktop and by saving it to your computer.
* Live stream or capture and record your gameplay with the Game Video Source.
*While video chatting, get creative and have fun by adding custom objects, face accessories and backgrounds to your video window
*Multiple-Tier Lower Thirds: Highlight important news, add your name, location, or other information to your broadcasts.
News, new features for this New Release:
(list of features)
or your iOS/Android device on any streaming service such as Facebook, Youtube, Livestream. Easily switch between different video, audio, and image sources. Replaces background with C
User's remarks, reviews, comments
(
Add your comment / review
)
<!Comments><!Comments>