[
Homepage
] - by:
Vital Sound Laboratory
-
Download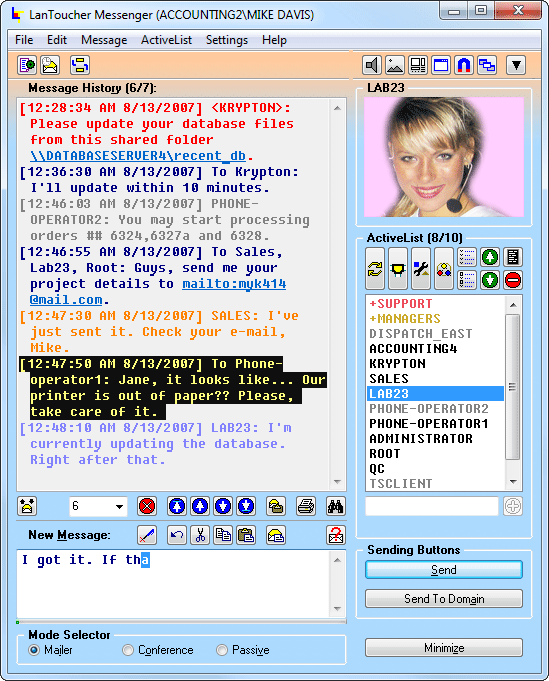 Click to enlarge
Description:
LanToucher Instant Messenger is instant messaging software for your office or home LAN (Local Area Network)
Being an efficient WinPopup and 'net send' command alternative, our full-featured instant messaging application offers you a much richer network communication environment, expanding the concept of conventional serverless messaging. Its user-friendly interface and original features make LanToucher Instant Messenger the tool of choice for both home and enterprise instant messaging. Based on peer-to-peer technology, LanToucher allows users to communicate directly with one another. No dedicated server or Internet connection is required.
KEY FEATURES:
True serverless (peer-to-peer) messaging;
Proven cross-platform compatibility;
All 32-bit Windows versions support;
Works over any available network transport protocol (TCP/IP, IPX/SPX, or NetBEUI)
No dedicated server or Internet connection is required;
Terminal Services/Remote Desktop support;
Contact list (ActiveList) with picture / portrait support;
Permanent message history;
Advanced sound and visual notification;
Taskbar notification area (system tray) support;
User-defined macros, status / away messages;
Message forwarding;
and more...
LanToucher Instant Messenger is a complete serverless communication solution for your office and home LAN. It is compatible with Microsoft WinPopup (Windows 3.x/95/98/ME), Messenger service / 'net send' command (Windows NT/2000/XP/Server 2003), Samba smbclient (Unix/Linux), and a broad range of compatible instant messengers based on the standard SMB/CIFS protocol.
Recent changes in this New Release:
Terminal Services and Remote Desktop support; Fast User Switching support (Windows XP only)
Comments
(
Add comment
)
<!Comments><!Comments>