[
Homepage
] - by:
Reallusion Inc.
-
Download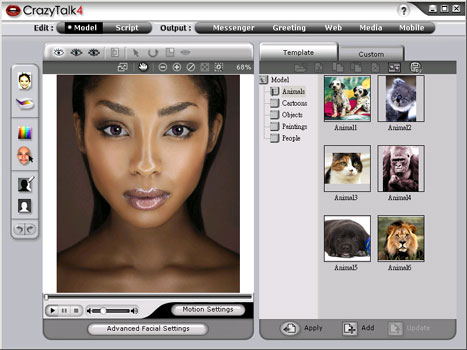 Click to enlarge
Description:
CrazyTalk combines powerful facial animation technology with easy tools designed to bring your photos to life through three specialized versions to create virtual hosts or animated actors. Simply import a single digital photo, use the CrazyTalk photo fitting wizard, record or import audio, combined with transitional effects, animated illustrations and expressive emoticons, and watch as CrazyTalk magically morphs your photo into a fully animated actor.
CrazyTalk Messenger Edition
Get simple tools for creating animated e-mail, instant messengers, and mini-video clips. CrazyTalk Messenger is designed for anyone that enjoys creating, sending, and sharing fun e-mail messages.
CrazyTalk Live Edition
Get all the tools necessary to add virtual animated talking hosts to any website. CrazyTalk Live features the same exclusive photo fitting wizard and 3D facial animation found in all versions of CrazyTalk; plus, special export tools for embedding talking characters directly into existing web pages or creating new talking websites. Streaming media output is also included with CrazyTalk Live making it the most compatible talking web avatar. Take your talking characters to the airwaves with the Live Mobile export options to create mobile video or MMS content shareable on a wide array of wireless mobile phones.
CrazyTalk Media Studio Edition
The total solution for talking 3D facial animation, CrazyTalk Media Studio exclusive professional timeline editor and high-resolution digital video offers flexible media output for all multimedia, web or video production projects. Get deep access to each animation track with advanced key frame control over your character, voice track, facial expression editing, eyes, head & shoulder movement, special effect overlays, precision lip-sync, & second layer audio for background music or sound effects. No other version of CrazyTalk offers ultimate access to every element of your character animation performance.
Recent changes in this Major Update:

User's Reviews, Comments
(
Add comment
)
<!Comments><!Comments>