[
Home
] - by:
InstallAware Software Corporation
-
Download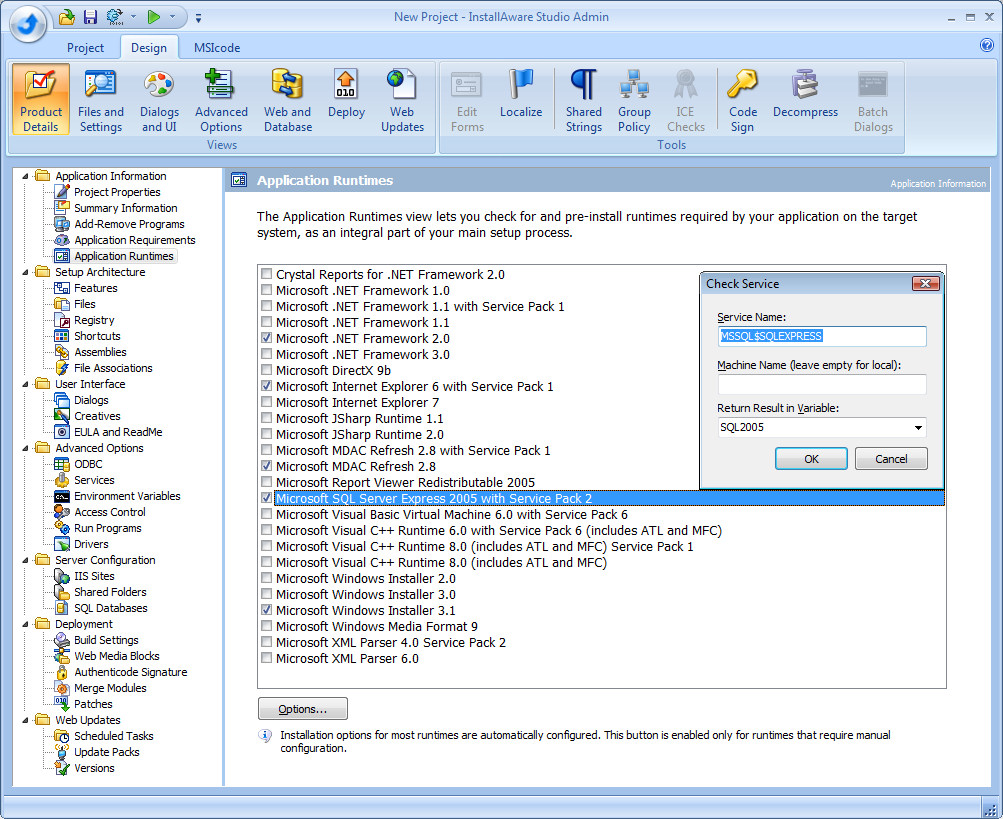 Click to enlarge
Some words about InstallAware Studio Admin for MSI:
Exclusive! Run Nested MSI Setups and Capture Progress
Deploy any MSI setup seamlessly within your InstallAware Wizard - even capture progress from the nested MSI. Install any feature set that the MSI offers, fully customizing the setup from the command line.
Exclusive! Multi-Instance Support on All Windows Platforms
Allow users to install multiple copies of your application on the same system, without requiring instance transforms or adding an MSI 3.0 dependency. Supports Windows 95 through Windows Vista.
Exclusive! Dynamic Feature Lists
Use MSIcode and variables to define product features based on target conditions or user entitlements. Only InstallAware provides feature-level customizations at runtime.
Exclusive! System Tray Minimized Setups
The new System Tray MSIcode command allows you to minimize your setup as an icon in the system tray. Use the MessageBalloon command to prompt users when a process needs their attention.
Exclusive! Dynamic User Validation
Use the included Authentication sample project to pass parameters or credentials to your website and save the results in a local file, which you search for the required authentication. Open access to certain features or to the entire setup.
Exclusive! Automatic Removal of Prior Versions
When a previous version is detected, InstallAware will provide the option to uninstall it before proceeding with the installation - automatically. Other Windows Installer tools simply allow the setup to fail and exit.
Exclusive! Compression Hyperthreading
Dual core, hyperthreaded processors, and multi processor systems are automatically detected, allowing compression tasks to be spread across multiple (logical) CPUs to reduce build times.
Enhanced! Setup Repackaging
Convert setups to Windows Installer format by capturing the system changes made during the installation process. Enhanced to reduce package clean-up tasks.
News, new features for this Major Update:
InstallAware 2012 now builds all of your existing setup projects as App-V Virtualized Packages. There's nothing new to learn - just load your project and click "Build as App-V"! InstallAware 2012 also includes an App-V Viewer, Windows 8 Metro Immersive Tile Pinning, and Visual Studio 11 integration.
o the system. Using the redistributable automation interface, you may remotely build your setups over web pages, or directly on end-user machine's at run-time.
User's remarks, reviews, comments
(
Add your comment / review
)
<!Comments><!Comments>