[
Homepage
] - by:
Nikola Dachev
-
Download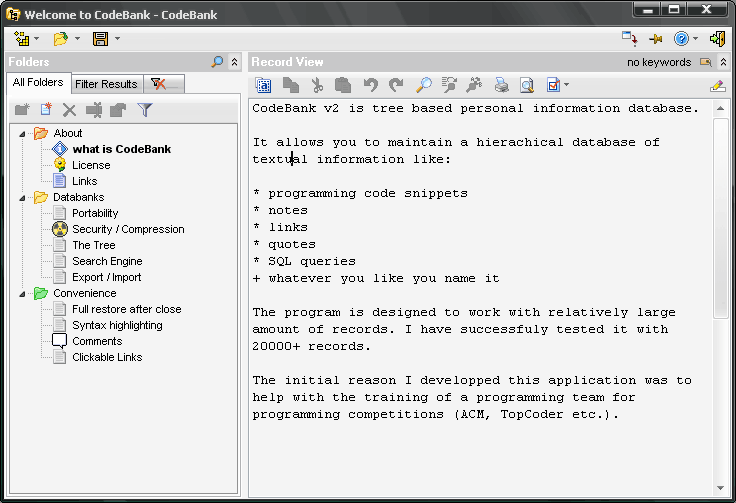 Click to enlarge
Description:
CodeBank v2 is tree based (XML) personal information database.
It allows you to maintain a hierachical database of textual information like:
* programming code snippets
* notes
* links
* quotes
* SQL queries
+ whatever you like you name it
CodeBank is designed to work with relatively large amount of records. I have successfuly tested it with 20000+ records.
Unlike similar programs CodeBank is fully portable and can be carried on removable media. The compression feature
helps in that matter too. The encryption feature provides high grade (256bit AES) of security for sensitive information.
The internal search engine can search for words, phrases and regular expressions.
CodeBank also allows you to comment and tag your own snippets/records so you can find them easier later.
The initial reason I developped this application was to help with the training of a programming team for programming competitions (ACM, TopCoder etc.)
* remembers the exact state you left it
* Great "Search Engine" for the database
* syntax highlightning in C/C++, Object Pascal, Java, XML, Visual Basic, VBScript, JavaScript, CSS, HTML, PHP, Perl, Python, SQL
* Drag & Drop
* Unlimited database size
* Export/Import between databases
* zip Compression
* AES Encryption
Recent changes in this Minor Update:

User's Reviews, Comments
(
Add your comment / review
)
<!Comments><!Comments>