[
Homepage
] - by:
Mobileer, Inc
-
Download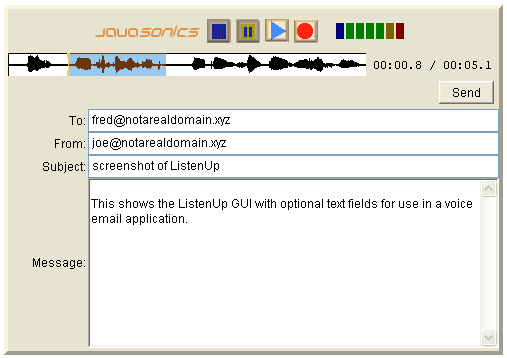 Click to enlarge
Description:
ListenUp is a client/server solution for recording sound in a web browser, and uploading that sound to a web server using simple GUI. Web designers can choose sampling rates from 8000Hz to 44100Hz. Voice compression for bitrates can be as low as 5 kbps.
On the client side, a Java applet runs in a web browser and provides record and playback functionality. The Applet is developed in Java1.1. The look and feel of this applet can be customized with parameters sent to the Applet. The Applet can be controlled by JavaScript allowing the use of a custom GUI. It supports Speex compression, which varies from 10:1 to 28:1. It supports ADPCM 4:1 compression, which can be played directly by most browsers or mail clients. It supports ulaw compression, which is common in telephony. It comes with an additional player Applet for WAV and Speex file playback.
On the server side, a script receives the uploaded files.The script determines how the files are used on the server and can be written using PHP, JSP, ASP or another language of choice. The server can handle uploaded files using the same techology as HTML FORMs and messages are uploaded to the server using standard multi-part MIME format and HTTP POST.
Optional text fields like userName or comment can be uploaded along with the WAV file. Also available are dynamic range, compression, noise gate, and silence trim.
ListenUp is reliable and easy to customize. Extensive documentation and tutorials are included. Some possible applications include voice message forums, voice annotation for a database, language training and testing, and online development of presentations.
Recent changes in this Minor Update:

User's Reviews, Comments
(
Add your comment / review
)
<!Comments>
All people deserve very good life time and loans or sba loan will make it better. Just because people's freedom is based on money state.
<!Comments>