Good: There are lots of script categories like blogs, forums, micro blogs, wikis, social networking, image galleries, ERP, Project Management, Educational, etc. One can also upgrade these applications when ... (this pertains
cpanel
,
open source
,
web hosting
,
autoinstaller
,
perl
,
software
,
softaculous
, ...)
Softaculous 3.6
[
Home
] - by:
Softaculous Ltd
-
Download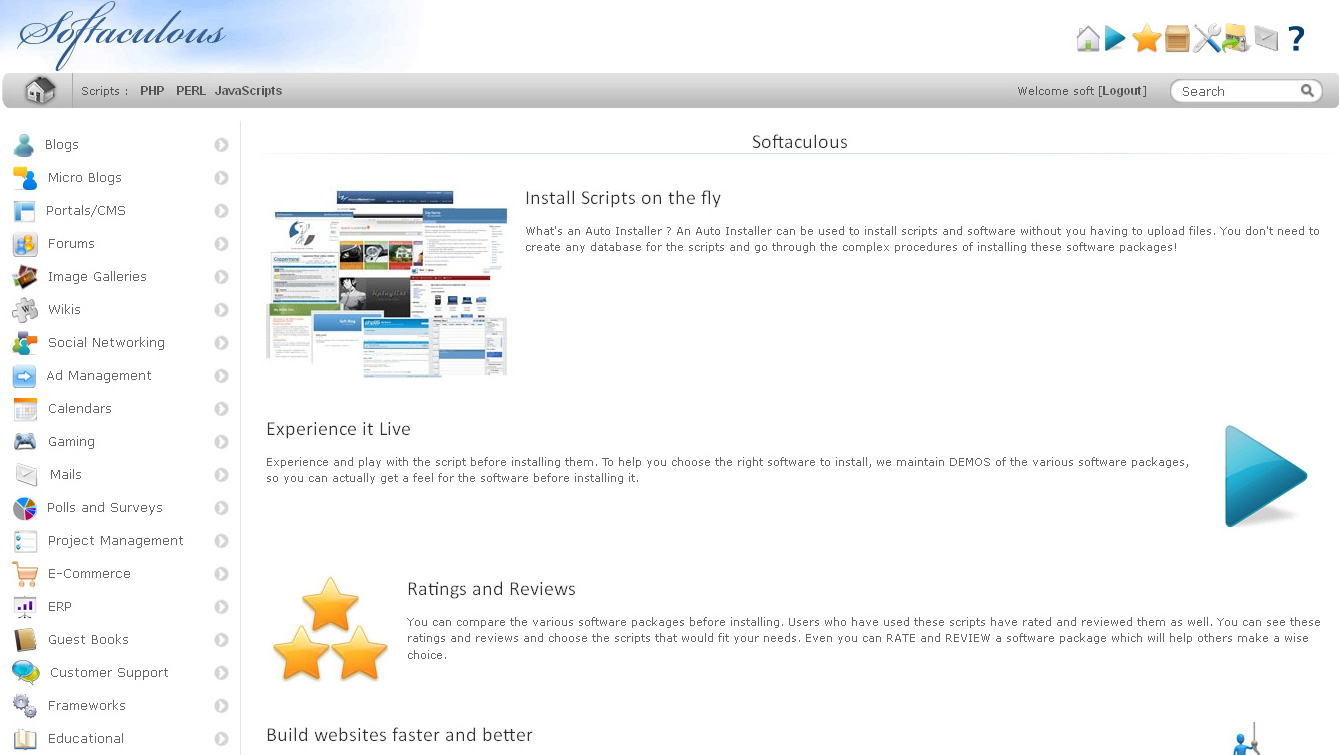 Click to enlarge
Some words about Softaculous:
Softaculous Auto Installer integrates into popular hosting control panels like cPanel, Plesk, DirectAdmin, H-Sphere and Interworx and allows the user to install any application by the click of a button. There are lots of script categories like blogs, forums, micro blogs, wikis, social networking, image galleries, ERP, Project Management, Educational, etc. One can also upgrade these applications when new versions become available. Softaculous also offers Demos, Ratings, Reviews and screenshots of the various applications.The Softaculous apps library already contains popular applications, including: WordPress, b2evolution, StatusNet, Drupal, Joomla, Concrete5, phpBB, MyBB, SMF, bbPress, Coppermine, Gallery, Mediawiki, DokuWiki, TikiWiki, Elgg, Dolphin, OpenX, SquirrelMail, LimeSurvey, Piwik, Mantis, SugarCRM, WHMCS, PrestaShop, Magento, CraftySyntax, osTicket, Moodle, Claroline, etc.To address the needs of different hosting providers, Softaculous is available as a Free product or as a Premium product. The Free version has only 59 apps while the Premium version currently has 225 Apps.
News, new features for this Major Update:
Changelog:1) Added PERL scripts for the endusers. 2) Added the ACL for control panel plans. 3) Added a new SUPER COOL feature - A Softaculous Category in the cPanel User Interface showing the TOP 14 scripts that the user can access directly from cPanel. 4) Added API to get the list of Installed Scripts of a user.5) Added API to uninstall an installation of a user.6) Added API to get the Demos and Screenshots of a script.7) Categorized the scripts in the Add and Edit ACL / Plan pages for easy selection of scripts.8) Added option to disable PERL scripts if a host doesnt want to offer it.9) Added option to add a Remote MySQL Host in Direct Admin.10) Improved API to import scripts with Data Directory.11) Bug Fix : MySQL DB Name suggestion has been improved for long usernames.12) Bug Fix : While backing up an installation if a file was not readable, the backup used to fail. More error reporting has been added and the backup procedure has been improved.13) Bug Fix : In Plesk 10+ subscription domains was not supported by Softaculous. This is now supported.14) Bug Fix : Added UTF-8 email support in Softaculous.15) Bug Fix : Added seperate php.ini in Direct Admin for Softaculous to avoid bugs related to suhosin enabled servers.16) Added feature to install Popular scripts like WordPress, PrestaShop, MyBB, phpBB, DokuWiki, Piwik and few more in Multiple Languages.
e. Softaculous also offers Demos, Ratings, Reviews and screenshots of the various applications.
User's remarks, reviews, comments
(
Add your comment / review
)
<!Comments><!Comments>
Type: Freeware


Download size:
3530 Kb
Date:
09/21/2011
Program home
Install/Uninstall:
Install and Uninstall
OS:
Linux
Sys requirements:
CentOS 5+ for linux Control Panel, PHP 5.1.0+, PHP Minimum Memory Limit : 32MB, MySQL 5+
Language:
English