Software Crescendo Plus download
Want a better software to manage your Web site more quickly and efficently? Click here, and start saving time today!
Create both Websites and CD DVD product catalogs with a single professional tool:
(BELOW!) FREE DOWNLOAD LINKS FOR:
Crescendo Plus 4.10
Crescendo Plus Music Notation Editing Software is perfect for composing original songs, music, scores, and soundtracks. The program features a wide variety of text, key signatures, time signatures, and notation symbols all on a free-form layout to give you complete control over your music creation. With Crescendo you can compose music for film, a band, a score, or just for fun!
(description, more information,
click here - Crescendo music score writing and composing software for Windows.
)
File size: 1016 Kb
Free Download link 1:
Click here to start the download for Crescendo Plus (then choose Save)
Free Download link 2:
https://www.nch.com.au/notation/crescendosetup.exe
WARNING: While we do our best to screen each file reviewed on CuteApps, we always suggest to scan the files with an
antivirus
before installing them (better safe than sorry).
Also, the download link was working at the time of the inclusion in this archive and when we did the last test; it is provided by the software house and sometimes can be -temporarily- offline or so.
Please
contact us with the contact form
to report difficulties, strange behaviors or persistent problems, and quote the program name or the number 22416 .
Crescendo Plus is a simple and intuitive way to create musical compositions. Crescendo allows you to create, save and print your music compositions on your Windows PC. Crescendo Plus comes with a variety of notation symbols, key, and time signatures.
(
Crescendo music score writing and composing software for Windows.
)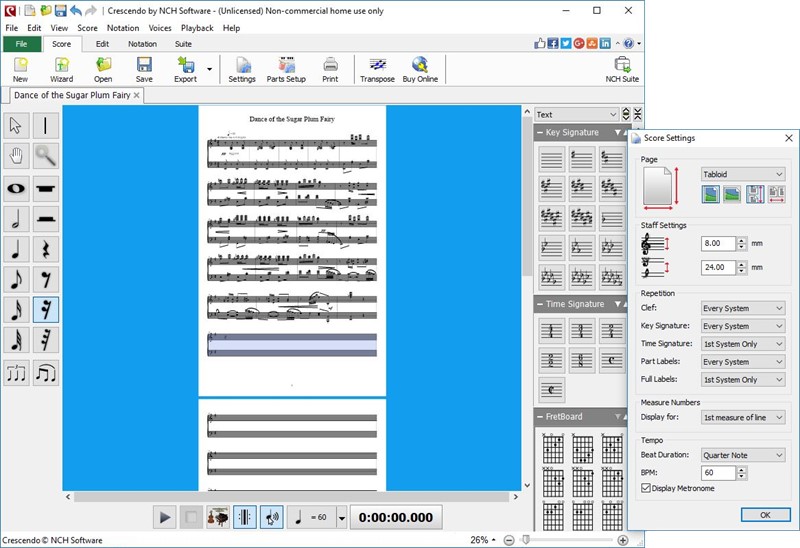 This is the download page for Crescendo Plus - Crescendo Music Notation Editor Plus and Composition Software. Professional music notation and composition software to arrange your own professional quality sheet music using a wide array of music symbols and notes.

Crescendo Music Notation Editor Plus Features:

* Change the key signature and time signature
* Add whole, half, quarter, eighth and sixteenth notes and rests (semibreve to semiquaver)
* Compose music in Treble, Bass or C Clefs (e.g., Alto and Tenor)
* Assign sharp, flat and natural accidentals to notes
* Insert text to specify a title, tempo, dynamics or lyrics
* Drag notes to change their pitch or placement
* Adjust staff line placement by snapping them to margins or other staff lines
* Save to Crescendo's format, or export as MusicXML
* Print completed music projects, or blank music sheets for hand transcription
* Create dotted notes, chords, add repeats, and more.

Create professional music scores with this intuitive and easy to use software.