Want a better software to manage your Web site more quickly and efficently? Click here, and start saving time today!
Create both Websites and CD DVD product catalogs with a single professional tool:
(BELOW!) FREE DOWNLOAD LINKS FOR:
MagicScore Maestro 8.171
Compose, arrange and edit music with MagicScoreMaestro. This software is perfect for composers, arrangers, copyists, music teachers and students. MagicScore Maestro allows musicians to compose and lay out music and produce playable audio and printable scores. Creating masterpieces is much easier now. The built-in sharing features make it easy to publish your work on your personal blog, Web site.
(description, more information,
click here - Music notation and composition software - MagicScore Maestro
)
File size: 20619 Kb
Free Download link 1:
Click here to start the download for MagicScore Maestro (then choose Save)
WARNING: While we do our best to screen each file reviewed on CuteApps, we always suggest to scan the files with an
antivirus
before installing them (better safe than sorry).
Also, the download link was working at the time of the inclusion in this archive and when we did the last test; it is provided by the software house and sometimes can be -temporarily- offline or so.
Please
contact us with the contact form
to report difficulties, strange behaviors or persistent problems, and quote the program name or the number 22366 .
MagicScore Maestro is a perfect tool for any musician. Offering features for easy composing, aranging and notation, this software is developed for both professional musicians and amateurs.
(
Music notation and composition software - MagicScore Maestro
)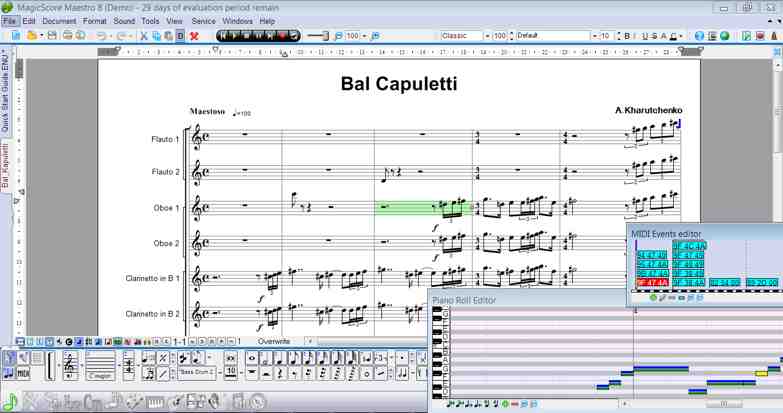 This is the download page for MagicScore Maestro - Compose, transcribe and edit music the way you want it! MagicScore Maestro offers everything a musician could ever dream about. Whether you are a proffesional or amateur, the software will provide you with powerful features for typing or editing scores. Being used by musicians all over the world, MagicScore Maestro allows you to quickly and easily lay out and typeset music, and produce high-quality scores that can be easily played back and printed out. A range of user-friendly features makes this program the fastest way to create music and arrangements. MagicScore Maestro is a perfect companion for composing and arranging scores. Now composing is much easier! You can write and listen your music and also can edit the sound of the scores as you like.