Want a better software to manage your Web site more quickly and efficently? Click here, and start saving time today!
Create both Websites and CD DVD product catalogs with a single professional tool:
(BELOW!) FREE DOWNLOAD LINKS FOR:
Zulu Masters Edition 4.10
Zulu Masters Edition is a DJ program for Windows. Automatic beat detection helps mixing your favorite music fun and easy. Start by loading a track onto the deck and the program will automatically scan the song for a beat. After scanning for a beat, the track will be assigned a BPM (beat per minute) and adjust the tempo on the second track for perfectly matched synchronization. Drag and drop tracks anywhere to preview the song before playing.
(description, more information,
click here - Zulu Masters Edition is the complete DJ software solution.
)
File size: 5009 Kb
Free Download link 1:
Click here to start the download for Zulu Masters Edition (then choose Save)
Free Download link 2:
http://www.nch.com.au/dj/zulusetup.exe
WARNING: While we do our best to screen each file reviewed on CuteApps, we always suggest to scan the files with an
antivirus
before installing them (better safe than sorry).
Also, the download link was working at the time of the inclusion in this archive and when we did the last test; it is provided by the software house and sometimes can be -temporarily- offline or so.
Please
contact us with the contact form
to report difficulties, strange behaviors or persistent problems, and quote the program name or the number 19753 .
Zulu Masters Edition includes powerful features in an easy-to-use interface that makes mixing fun and easy. Apply included effects on the fly while mixing your favorite tracks. Zulu includes automatic beat detection to help your tracks stay on beat
(
Zulu Masters Edition is the complete DJ software solution.
)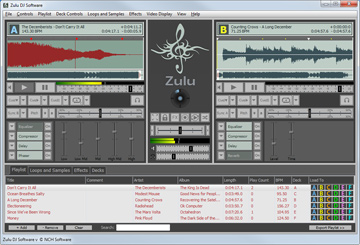 This is the download page for Zulu Masters Edition - Zulu DJ software is the complete DJ software solution for mixing your tracks live while applying effects on the fly. This program features an easy-to-use interface with included effects that makes mixing your favorite tracks easy and fun. Preview upcoming tracks before the play by using drag and drop anywhere on the screen. Playing your music is never a problem because Zulu DJ Software supports all of the latest audio file formats.
Zulu Master's features
* Tempo and real-time pitch adjustment
* Hands-free auto-play mode for seamless music mixing
* Supports popular audio formats such as mp3 and wav
* Automatically detects beats in individual tracks
* Synchronize the beats between the two decks
* Real-time effect application including popular effects like reverb and distortion
* Save audio files and record DJ mixes
* Synchronize tracks to the BPM and loop sections
* Additional effects supported by VST plugin
* Add samples and loops to the sample bank
* Create flawless shows and prevent mistakes with safe live mode