Software ACA Audio Recorder download
Want a better software to manage your Web site more quickly and efficently? Click here, and start saving time today!
Create both Websites and CD DVD product catalogs with a single professional tool:
(BELOW!) FREE DOWNLOAD LINKS FOR:
ACA Audio Recorder 4.20
<a href=http://www.acasystems.com/en/audiorecorder/>ACA Audio Recorder is a real-time audio recording software</a>, it records sound from your favorite video game, Internet broadcasts, or programs like RealPlayer. It can also record conventional audio from CD, microphone, and other input line on a sound card, you can save it to WAV, AVI & MP3 format. It supports for scheduled recording, you can specify a time to auto start/stop th
(description, more information,
click here - Records audio streaming from any source into WAV, AVI and MP3 file. Free to try
)
File size: 1296 Kb
Free Download link 1:
Click here to start the download for ACA Audio Recorder (then choose Save)
WARNING: While we do our best to screen each file reviewed on CuteApps, we always suggest to scan the files with an
antivirus
before installing them (better safe than sorry).
Also, the download link was working at the time of the inclusion in this archive and when we did the last test; it is provided by the software house and sometimes can be -temporarily- offline or so.
Please
contact us with the contact form
to report difficulties, strange behaviors or persistent problems, and quote the program name or the number 6873 .
A real-time audio recording software, it <a href=http://www.acasystems.com/en/audiorecorder/>Records audio streaming</a> from any source(Microphone, Internet broadcasts, CDs, etc..) into WAV, AVI and MP3 file, supports for scheduled recor
(
Records audio streaming from any source into WAV, AVI and MP3 file. Free to try
)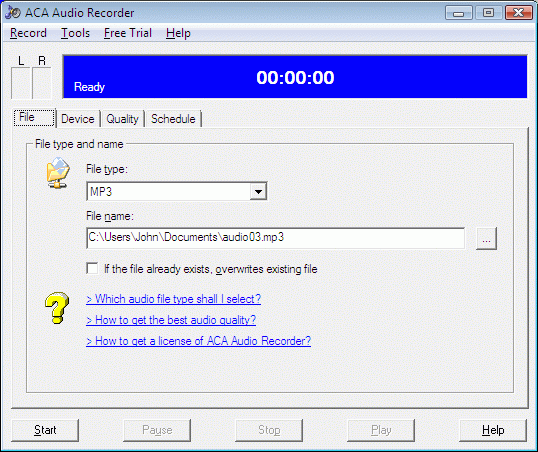 This is the download page for ACA Audio Recorder - <a href=http://www.acasystems.com/en/audiorecorder/>ACA Audio Recorder is a direct and real-time sound recorder software</a> which offers professional recording features with WAV, MP3 and AVI support. It makes a complete sound recorder studio of your computer. With it you can record sound from Microphone, Line-in, streaming audio from the Internet, or music played by Winamp, Windows Media Player, Quick Time, Real Player, DVD player, Flash, games, etc.. ACA Audio Recorder is able to automatically detect the recording formats your sound card supports and then set the application's parameters for the best possible performance. <br><br>

Features include:<br><br>

* Full compatible with Windows Vista, 2003, XP, 2000.<br><br>

* CD Quality Recordings <br><br>

* Powerful Recorder<br>
ACA Audio Recorder can record any signal played through your sound card into wav, avi or mp3 files.<br><br>

* Schedule Support<br>
You can set a scheduled task, the program will auto start and stop the recording<br><br>

* User-friendly Interface<br>
Most functions can be called up with a simple mouse click or menu selection. <br><br>

* Record Volume Control Support<br>
ACA Audio Recorder integrates the complete set of record volume control for your convenience.<br><br>

* Flexible Setting<br>
ACA Audio Recorder is able to automatically detect the recording formats your sound card supports and then set the application's parameters for the best possible performance.<br><br>

* Direct-To-Disk Long Time Recording Support<br>
ACA Audio Recorder can record on the fly for as long as your like without interrupt.<br>

More Information, please visit <a href=http://www.acasystems.com/en/audiorecorder/>ACASystems: ACA Audio Recorder Software</a>