Want a better software to manage your Web site more quickly and efficently? Click here, and start saving time today!
Create both Websites and CD DVD product catalogs with a single professional tool:
(BELOW!) FREE DOWNLOAD LINKS FOR:
Multi Room Audio Player 5.0
Multi Room Audio Player is much more than yet another media player. This one allows you to utilize all of your available hardware to provide different audio streams to each area of a public venue. This can all be done from a single, convenient centralized location. This makes the process much more efficient, negating the necessity to have separate computers and audio players in each area.
(description, more information,
click here - Configure and control audio playback in multiple locations of a public venue.
)
File size: 9858 Kb
Free Download link 1:
Click here to start the download for Multi Room Audio Player (then choose Save)
Free Download link 2:
http://multiroomaudioplayer.com/download/multi-room-audio-player.zip
WARNING: While we do our best to screen each file reviewed on CuteApps, we always suggest to scan the files with an
antivirus
before installing them (better safe than sorry).
Also, the download link was working at the time of the inclusion in this archive and when we did the last test; it is provided by the software house and sometimes can be -temporarily- offline or so.
Please
contact us with the contact form
to report difficulties, strange behaviors or persistent problems, and quote the program name or the number 21887 .
Multi Room Audio Player is ideal for public venues with multiple rooms and areas. It allows you to control which music is played in which location from a convenient centralized location.
(
Configure and control audio playback in multiple locations of a public venue.
)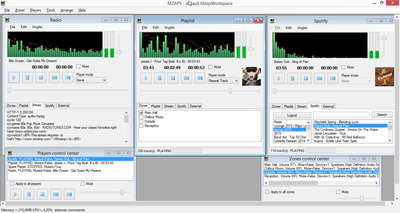 This is the download page for Multi Room Audio Player - Multi Room Audio Player is far more than just another media player. With this solution, it is possible to utilize your available hardware in such a way that you can provide audio to multiple areas of a place such as a nightclub from a single, centralized solution. Each channel of each available soundcard can be used to play a separate audio stream, each one in a different location. This means that you know longer have to have separate machines each with their own media players. This saves time, money and makes the entire process far more efficient. Multi Room Audio Player is ideal for all kinds of public venues with multiple areas which need to have different music, such as shopping centers or nightclubs. The software also provides some welcome extra features, including a 12-band equalizer for each audio stream, support for a wide variety of formats, and playlist organizers. Multi Room Audio Player is mostly of use to those who are in charge of music in public venues, though there is also a cheaper license available for those who need it for personal use.