Want a better software to manage your Web site more quickly and efficently? Click here, and start saving time today!
Create both Websites and CD DVD product catalogs with a single professional tool:
(BELOW!) FREE DOWNLOAD LINKS FOR:
Voxal Plus Edition 1.38
Voxal Plusis voice changer software that is designed to enhance any game or application that uses a microphone. Voxal can be used to add effects to a recording as well as intercept and add change audio as it comes into your microphone for voice changing on the fly. Change your voice in several different ways by adding effect such as pitch and echo.
(description, more information,
click here - Voxal Plus is a voice changer software to change live or recorded voices.
)
File size: 990 Kb
Free Download link 1:
Click here to start the download for Voxal Plus Edition (then choose Save)
Free Download link 2:
http://www.nchsoftware.com/voicechanger/vxlsetup.exe
WARNING: While we do our best to screen each file reviewed on CuteApps, we always suggest to scan the files with an
antivirus
before installing them (better safe than sorry).
Also, the download link was working at the time of the inclusion in this archive and when we did the last test; it is provided by the software house and sometimes can be -temporarily- offline or so.
Please
contact us with the contact form
to report difficulties, strange behaviors or persistent problems, and quote the program name or the number 21275 .
Voxal Plus Edition is a state of the art voice changer software to edit and add effects to voice recordings. You can also change your voice in real time as you talk into the microphone on your Windows PC.
(
Voxal Plus is a voice changer software to change live or recorded voices.
)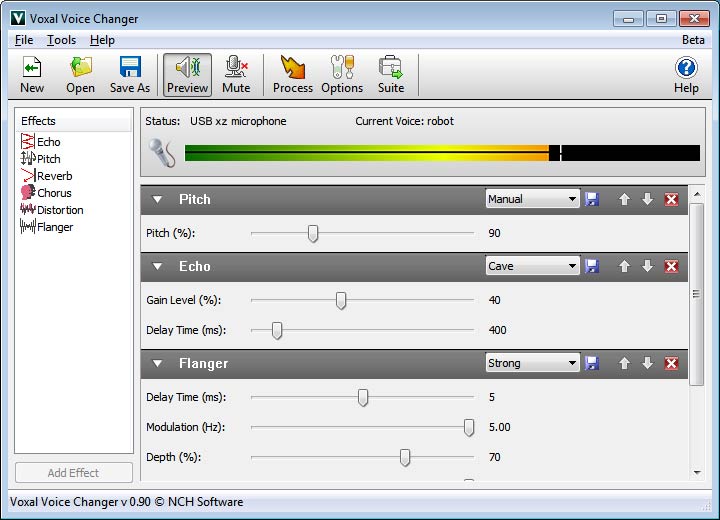 This is the download page for Voxal Plus Edition - Voxal Plus Edition is a voice changing program designed for Windows to edit voice recordings. Voxal can be used to add effects to a recording as well as intercept and add change audio as it comes into your microphone for voice changing on the fly. Effects can be stacked in any order to provide nearly unlimited unique combinations. Voxal works in the background, so you don't need to change any current settings in the programs you are already using.

Voxal Voice Changing Features:

* Apply effects to existing files
* Apply effects in real-time
* Save effect chains
* Works with existing programs
* Hear the effects live through speakers
* No interference with current projects
* Intuitive and simple interface

Bonus features:

* Install the small download easily
* Gain anonymity over the internet by changing your voice
* Change voices for voiceovers in projects
* Use effect chains for voice modification