Software Mizu Webphone download
Want a better software to manage your Web site more quickly and efficently? Click here, and start saving time today!
Create both Websites and CD DVD product catalogs with a single professional tool:
(BELOW!) FREE DOWNLOAD LINKS FOR:
Mizu Webphone 4.8.4
The Mizu WebPhone is a lightweight SIP standard based VoIP web phone software implemented as a java applet that can be embedded in your webpage
(description, more information,
click here - The Mizu browser Webphone is a VoIP softphone embeddable in all browsers
)
File size: 3298 Kb
Free Download link 1:
Click here to start the download for Mizu Webphone (then choose Save)
WARNING: While we do our best to screen each file reviewed on CuteApps, we always suggest to scan the files with an
antivirus
before installing them (better safe than sorry).
Also, the download link was working at the time of the inclusion in this archive and when we did the last test; it is provided by the software house and sometimes can be -temporarily- offline or so.
Please
contact us with the contact form
to report difficulties, strange behaviors or persistent problems, and quote the program name or the number 19054 .
The Mizu WebPhone is a lightweight SIP standard based VoIP web phone software implemented as a java applet that can be run from webpages
(
The Mizu browser Webphone is a VoIP softphone embeddable in all browsers
)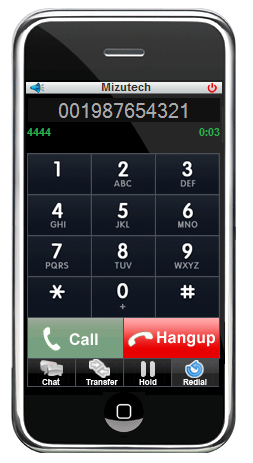 This is the download page for Mizu Webphone - The Mizu browser Webphone (WebSIPPhone) is a lightweight standard based VoIP phone that can be run from the browsers, embeddable in your website. Based on the industry standard SIP protocol, it is compatible with all VOIP devices and services. It can call any other SIP soft phone (for free charge) or any landline or mobile number via your softswitch or a VoIP service provider of your choice.

The webphone can be also controlled with a simple to use JavaScript API and it is completely customizable. Shipped with 6 free to use skins which you can easily edit or modify (simple HTML and CSS)

The phone is implemented as a java applet/application and it is completely independent platform running on webpages, Windows desktop, MAC and Linux.
It can be used as a normal softphone running on your website or as Skype-like buttons (Click to Call).

The called person can accept the call on a VOIP device (soft phone, IP phone, call-center application) or can be contacted directly on their landline or mobile phone numbers. All usual call routing features can be enabled (call forward, call transfer, etc).

Features includes industry standard VoIP codec (G.729, G.7211, GSM, iLBC, opus, speex wideband) and a VoIP over HTTP tunneling and encryption (optional).

With Mizu-Webphone you can quickly add VoIP capabilities on your website. For example:

* Provide VoIP services right from your website without requiring the users to install any softphone
* VOIP enabled support pages when people can call your support people from your website.
* VOIP enabled forums when members can call each other
* VOIP enabled blogs
* VOIP enabled sales when customers can call agents