Software BarCodLabGen download
Want a better software to manage your Web site more quickly and efficently? Click here, and start saving time today!
Create both Websites and CD DVD product catalogs with a single professional tool:
(BELOW!) FREE DOWNLOAD LINKS FOR:
BarCodLabGen 1.30
Software with 4 functions :.Printing of labels that can have up to 3 barcodes, 10 text lines, 5 fixed text lines.These labels can be fully defined by the user. The labels are printed from datas on the database of the software. Generate a barcode and export it on an image file or in the clipboard. Batch Export of barcodes on images files. EAN13 , EAN8 , Code39, Code128 (A,B,C) , code_2_5,Code93,CodeMSI,PostNet,Codabar,UPC (A,E0,E1,S2.
(description, more information,
click here - Generate and print barcodes . labels printing with up to 3 barcodes
)
File size: 2441 Kb
Free Download link 1:
Click here to start the download for BarCodLabGen (then choose Save)
Free Download link 2:
http://www.cellard.net/download/barcodlabgensha.exe
WARNING: While we do our best to screen each file reviewed on CuteApps, we always suggest to scan the files with an
antivirus
before installing them (better safe than sorry).
Also, the download link was working at the time of the inclusion in this archive and when we did the last test; it is provided by the software house and sometimes can be -temporarily- offline or so.
Please
contact us with the contact form
to report difficulties, strange behaviors or persistent problems, and quote the program name or the number 10339 .
Generate and print barcodes . labels printing with up to 3 barcodes .generation as wmf images file. EAN13 , EAN8 , Code39, Code128 (A,B,C) , code_2_5,Code93,CodeMSI,PostNet,Codabar,UPC (A,E0,E1,S2,S5), EAN128 (A,B,C)
(
Generate and print barcodes . labels printing with up to 3 barcodes
)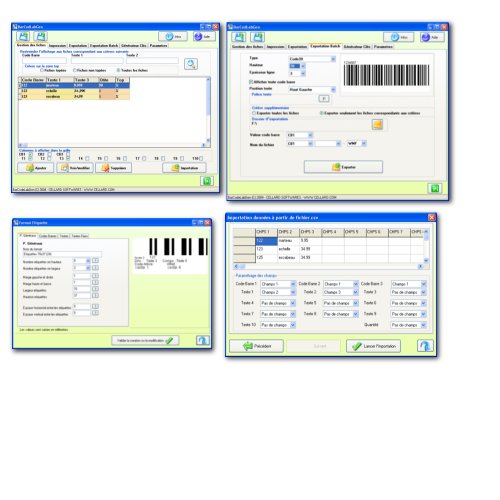 This is the download page for BarCodLabGen - Software with 4 functions :.Printing of labels that can have up to 3 barcodes, 10 text lines, 5 fixed text lines.These labels can be fully defined by the user. The labels are printed from datas on the database of the software. Generate a barcode and export it on an image file (WMF and TIFF format) or in the clipboard. Batch Export of barcodes on images files. The barcodes are generated from the datas on internal database of the software Checksum generator for the following barcodes types :EAN13, EAN8, UPC-C, EAN14 ,SSCC,ISBN. Generation of the following barcodes types: EAN13 , EAN8 , Code39, Code128 (A,B,C) , code_2_5,Code93,CodeMSI,PostNet,Codabar,UPC (A,E0,E1,S2,S5), EAN128 (A,B,C)