Software Database Tour Pro download
Want a better software to manage your Web site more quickly and efficently? Click here, and start saving time today!
Create both Websites and CD DVD product catalogs with a single professional tool:
(BELOW!) FREE DOWNLOAD LINKS FOR:
Database Tour Pro 8.0.0.123
Database Tour Pro is a cross-database tool with report builder. It allows viewing, editing, and printing data, building SQL queries, building reports, control transactions, configuring BDE aliases, sorting and filtering data, viewing structure, searching and replacing text, importing and exporting data (with format converting), special functions to work with MEMO, graphic, numeric, string fields. Command line is supported.
(description, more information,
click here - Cross-database tool with integrated report builder
)
File size: 4248 Kb
Free Download link 1:
Click here to start the download for Database Tour Pro (then choose Save)
Free Download link 2:
http://www.vlsoftware.net/files/dbtour.zip
WARNING: While we do our best to screen each file reviewed on CuteApps, we always suggest to scan the files with an
antivirus
before installing them (better safe than sorry).
Also, the download link was working at the time of the inclusion in this archive and when we did the last test; it is provided by the software house and sometimes can be -temporarily- offline or so.
Please
contact us with the contact form
to report difficulties, strange behaviors or persistent problems, and quote the program name or the number 20907 .
Database Tour Pro is a cross-database tool. Use it to view, edit, and print data; build SQL queries; build reports; sort and filter data; view and print structure; search and replace text; import and export data.
(
Cross-database tool with integrated report builder
)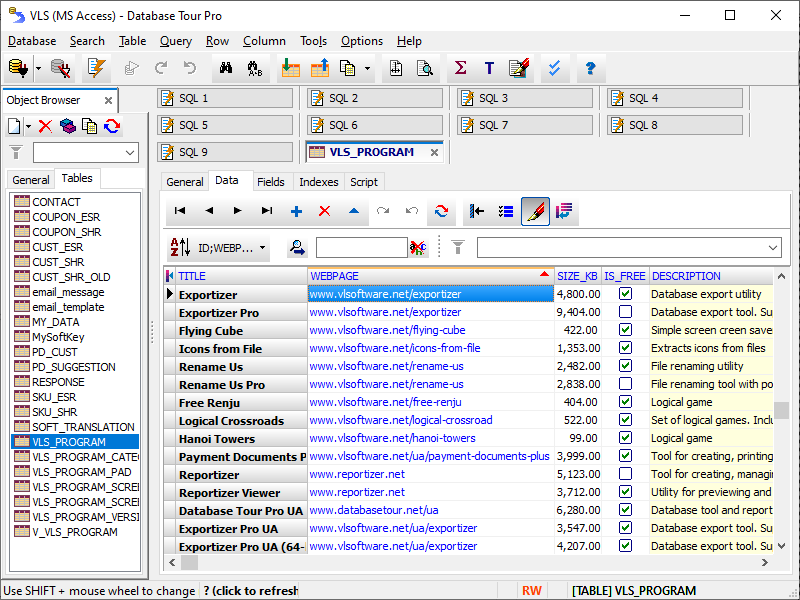 This is the download page for Database Tour Pro - Database Tour Pro is a cross-database tool. It works via ADO or BDE and was tested on Paradox, dBase, FoxPro, ASCII, CSV, Interbase, Firebird, Lotus, HTML, Oracle, SQL Server, MS Access, MS Excel, PostgreSQL, MySQL.
Key features:
-Accessing different types of databases.
-Creating tables.
-Viewing and editing data.
-Several ways to print data.
-Built-in report engine, which allows to produce the reports automatically or by using a visual report designer with templates, expressions, preview etc.
-Expression builder for report expressions.
-Building and executing SQL queries.
-Support for execution of multi statement SQL scripts.
-Syntax highlighting in SQL editor.
-Support for parameterized SQL queries.
-Enhanced database grids, which allow to view and manipulate the data in the most convenient way, including sorting by clicking column header, changing row heights, resizing columns etc.
-Creating, deleting, modifying BDE aliases.
-Command line support for executing queries, opening tables, export-import operations, loading reports etc. with logging the performed operations.
-Searching and replacing text in database with ability to choose fields, record range etc.
-Importing data to table from another table or a query.
-Exporting data from open table or query to large number of file formats like text, CSV, HTML, XLS, XML, RTF, DBF or to any of supported database formats.
-Copying data to clipboard.
-Calculating numeric fields (sum, avg, min, max, count).
-Viewing and editing Blob data, such as MEMO, graphic, RTF.
-Tools for editing text fields (trimming, changing case of symbols, replacing text).
-Sorting data.
-Filtering data according to user's criteria.
-Viewing table and database structure with ability to print, copy, sort it.
-Reindexing tables.
-Customized data view (font, background).
-Conditional formatting data in database grids and reports.
-Ability to control transactions manually.
-Storing database and SQL history.