Software TextPipe Pro download
Want a better software to manage your Web site more quickly and efficently? Click here, and start saving time today!
Create both Websites and CD DVD product catalogs with a single professional tool:
(BELOW!) FREE DOWNLOAD LINKS FOR:
TextPipe Pro 10.7.2
Slam-dunk the most challenging edit tasks with TextPipe Pro - a powerful text-processing workbench that combines 300+ conversion, transformation, extraction and report mining operations on UNLIMITED text or binary files of UNLIMITED size. Text mine / extract data from mainframe EBCDIC COBOL copybooks, data historians, log files, XML, HTML, delimited files. Upload Data Historian time-series data to Azure Event Hub or Azure IoT Hub.
(description, more information,
click here - Industrial strength text transformation workbench for data conversion and mining
)
File size: 26992 Kb
Free Download link 1:
Click here to start the download for TextPipe Pro (then choose Save)
WARNING: While we do our best to screen each file reviewed on CuteApps, we always suggest to scan the files with an
antivirus
before installing them (better safe than sorry).
Also, the download link was working at the time of the inclusion in this archive and when we did the last test; it is provided by the software house and sometimes can be -temporarily- offline or so.
Please
contact us with the contact form
to report difficulties, strange behaviors or persistent problems, and quote the program name or the number 14046 .
Powerful text-processing workbench combining 300+ conversion, transformation, extraction and report mining operations on UNLIMITED text or binary files of UNLIMITED size. Text mine / extract data from mainframe EBCDIC COBOL copybooks, data historian
(
Industrial strength text transformation workbench for data conversion and mining
)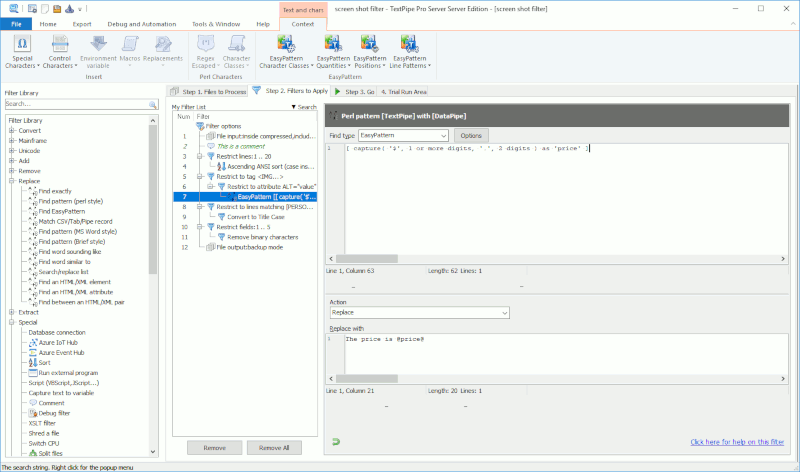 This is the download page for TextPipe Pro - Slam-dunk the most challenging edit tasks with TextPipe Pro - a powerful text-processing workbench that combines 300+ conversion, transformation, extraction and report mining operations on UNLIMITED text or binary files of UNLIMITED size. Text mine / extract data from mainframe EBCDIC COBOL copybooks, data historians, log files, XML, HTML, delimited files. Upload Data Historian time-series data to Azure Event Hub or Azure IoT Hub. EasyPattern or perl-style regular expression search and replace. Use restrictions to control precisely where changes occur e.g. line or column ranges, XML and HTML tags and attributes, CSV- or tab-delimited fields, lines that match/do not match a pattern etc e.g. find and replace just inside the ALT text of an IMG tag, or columns 20-40 of lines 1-10). Convert files between mainframe and DOS, Macintosh and Unix line-feed formats. TextPipe can be scripted from any language using COM or automated from the command-line. Generate and modify XML, CSV, tab-delimited or fixed width database extracts. User-defined filters can be written in VBScript or JScript. TextPipe comes with an Engine that can be embedded in other applications. Audit logs keep track of the filter lists run, files modified and changes made. More than 200 example filter files are included along with a comprehensive online manual. Winner SIA 'Best Application' award