Software Billing and Accounting Tool download
Want a better software to manage your Web site more quickly and efficently? Click here, and start saving time today!
Create both Websites and CD DVD product catalogs with a single professional tool:
(BELOW!) FREE DOWNLOAD LINKS FOR:
Billing and Accounting Tool 2.0.1.5
Business finance accounting management software maintains party product information create company ledger folio, day to day bills, sales and expense print details. Utility best suited for all type business and having facility to generate hard copy of order, confirmation, invoices, sales and purchase. Tool records all details information of product, companies, customers and provide backup facility if data lost or record missing.
(description, more information,
click here - Billing and Inventory Management application generate company ledger folio bills
)
File size: 7526 Kb
Free Download link 1:
Click here to start the download for Billing and Accounting Tool (then choose Save)
Free Download link 2:
http://www.data-wiper.com/downloads/BillingInventoryMgmtDemo.zip
WARNING: While we do our best to screen each file reviewed on CuteApps, we always suggest to scan the files with an
antivirus
before installing them (better safe than sorry).
Also, the download link was working at the time of the inclusion in this archive and when we did the last test; it is provided by the software house and sometimes can be -temporarily- offline or so.
Please
contact us with the contact form
to report difficulties, strange behaviors or persistent problems, and quote the program name or the number 16432 .
Freeware finance management software develops company financial stock details maintain product party information. Inventory tool fully password protected only administrator can change its control setting including Security, Invoice and print setting.
(
Billing and Inventory Management application generate company ledger folio bills
)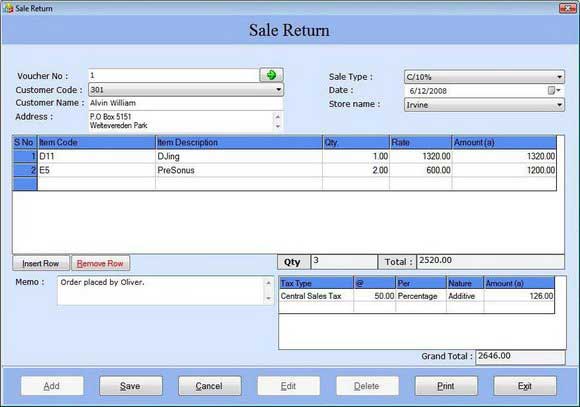 This is the download page for Billing and Accounting Tool - Freeware account billing management software is a client invoicing program that creates and maintains sales, expense, bills and ledger report details of company. Inventory Control reduces costly inventory errors, improves customer service, and will increase the value of your business. Business financing tool automatically generates hard copy of ledger folio bills, income and expenses, sales and purchase, export details. Utility is totally password encrypted, only administrator can make changes like adding, deletion, and updating of records or data in database. Inventory management solution is spontaneous utility to draw all details of products (by color, category and shade), customers and Companies. Financing software and inventory tracking solutions are easy-to-use and easy-to-implement without the cost or complexity of larger inventory tracking systems. Billing application generates invoices, company finance, revenue details and day by day credit billing notes, by restoration facility it can recover lost or missing records also. Billing and accounting software must required .Net framework for installation under windows 98 ME XP 2000 Vista operating system. Accounts program provide interactive GUI graphical wizard that give safe simple and secure installation procedure for non technical users.
Features:
* Inventory finance tool generate various ledger folio bills required for revenue and inventory, if need then make changes to existing database.
* Utility facilitates simple to use and easy to understand graphical GUI wizard interface.
* Billing utility can generate hard copy of company records, financial statements, invoices, revenues and other details.
* Billing software is fully password encrypted, only administrator can make changes like add, delete or updating of records.
* Complete inventory tracking solutions created and backed by the leaders in small business inventory productivity.