Want a better software to manage your Web site more quickly and efficently? Click here, and start saving time today!
Create both Websites and CD DVD product catalogs with a single professional tool:
(BELOW!) FREE DOWNLOAD LINKS FOR:
Awario 3.27
Awario is a social media monitoring tool that tracks mentions of your brand, product, competitor or any given keyword across the whole web. Unlike other monitoring apps that rely on a single third-party data provider, Awario crawls over 13 billion web pages daily, providing data immediately. Now you can conduct market research, engage with customers, raise brand awareness and find new sales opportunities in real time and from any device.
(description, more information,
click here - Track mentions of any given keyword across the web and social with Awario.
)
File size: 1402880 Kb
Free Download link 1:
Click here to start the download for Awario (then choose Save)
Free Download link 2:
https://awario.com/awario.zip
WARNING: While we do our best to screen each file reviewed on CuteApps, we always suggest to scan the files with an
antivirus
before installing them (better safe than sorry).
Also, the download link was working at the time of the inclusion in this archive and when we did the last test; it is provided by the software house and sometimes can be -temporarily- offline or so.
Please
contact us with the contact form
to report difficulties, strange behaviors or persistent problems, and quote the program name or the number 21284 .
Awario tracks and analyzes mentions about your brand, competitor or any keyword across the web and social media. It helps you engage with customers, increase brand awareness, and find new sales opportunities through reacting to mentions in real time.
(
Track mentions of any given keyword across the web and social with Awario.
)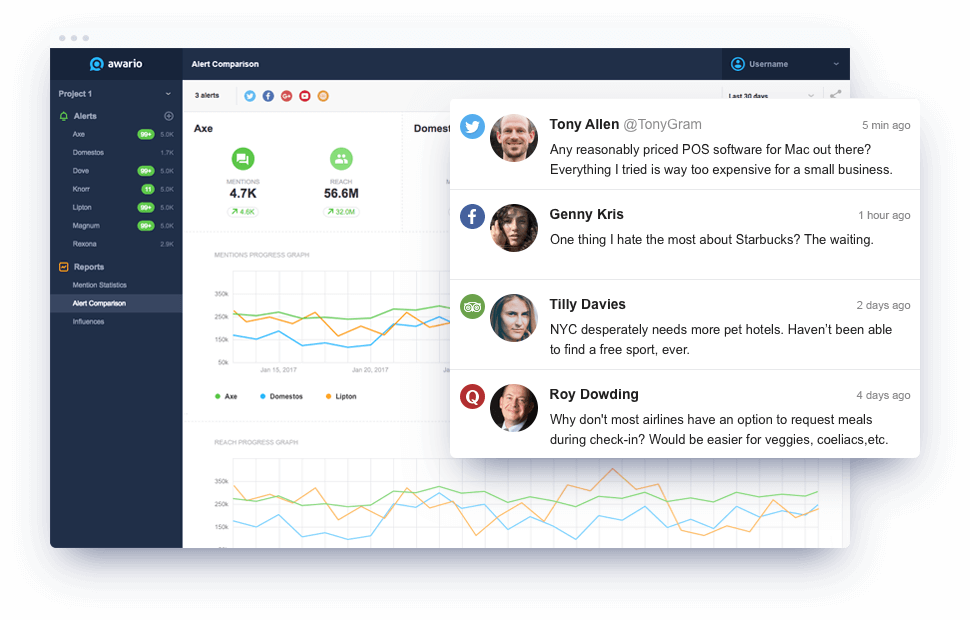 This is the download page for Awario - Awario provides you with extensive knowledge on what is the word about your business online. It tracks online mentions of any given keyword (brand, company, competitor, CEO), analyzes mentions growth and visibility, and lets you join the conversation about what matters to you. Awario functions include:

- Non-stop monitoring of Twitter, Facebook, Google+, blogs, forums, news, and other online resources for keywords in any language.

- Prioritizing mentions by their popularity, enabling you to identify people who influence opinions about your brand category the most.

- Tracking the growth in the number of mentions and their visibility, and comparing topics (alerts) by their popularity and visibility.

- Identifying top influencers by social network.

- Notifying you when new mentions appear with daily or weekly emails about the latest posts.

Use Awario to:

- Engage with your customers in real time: optimize customer service by always being there for your customers.
- Build relationships with niche influencers: easily identify key influencers by the popularity of their posts, and reach out to them.
- Raise brand awareness: reach more people through monitoring mentions of niche-related keywords and joining online conversations.
- Find new sales opportunities: offer your product to people asking online about your product category.
- Monitor your competitors: be aware of the successes and mistakes of your competitors to optimize your own business strategies.
- Perform extensive market research: Awario analytics dashboard provides you with a load of information about your customers and about your progress in social media and across the web.

Awario is well-designed and easy to use from any device (your phone, tablet, desktop, or laptop). Take a moment to set up an alert with Awario by entering your keywords and take charge of what's being said about your brand online.