Software A VIP Organizer download
Want a better software to manage your Web site more quickly and efficently? Click here, and start saving time today!
Create both Websites and CD DVD product catalogs with a single professional tool:
(BELOW!) FREE DOWNLOAD LINKS FOR:
A VIP Organizer 2.90
VIP Organizer is a time and task management software which uses To Do List method to help you get through more work spending less time. The program increases your personal and professional productivity. Its an organizer, planner, notepad and reminder combined in one powerful application. Use our software to organize, prioritize and track completion of tasks, manage projects, workflow and events, plan your life for days, months and years ahead.
(description, more information,
click here - Personal task management software for workflow optimization by to-do list usage.
)
File size: 5731 Kb
Free Download link 1:
Click here to start the download for A VIP Organizer (then choose Save)
Free Download link 2:
http://www.vip-qualitysoft.com/VIPOrganizerSetup.zip
WARNING: While we do our best to screen each file reviewed on CuteApps, we always suggest to scan the files with an
antivirus
before installing them (better safe than sorry).
Also, the download link was working at the time of the inclusion in this archive and when we did the last test; it is provided by the software house and sometimes can be -temporarily- offline or so.
Please
contact us with the contact form
to report difficulties, strange behaviors or persistent problems, and quote the program name or the number 10958 .
VIP Organizer is a personal time and task management software for organizing and optimizing of your workflow. It is a powerful and full-featured tool which helps you create to-do list and track progress of your working tasks.
(
Personal task management software for workflow optimization by to-do list usage.
)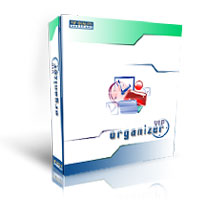 This is the download page for A VIP Organizer - VIP Organizer is a time and task management software which uses To Do List method to help you get through more work spending less time. It increases your personal and professional productivity drawing much of your attention to the most important tasks which give 80% of successful results.

You can use VIP Organizer to manage your time and tasks both at home and at work. Using our software you will optimize efforts you take to carry out your everyday tasks and activities. It is your right hand in:
+ managing time, appointments, meetings, events, projects, workflow, etc.
+ planning personal and professional life for days, months and years ahead
+ organizing, prioritizing, setting deadlines and tracking completion of tasks

VIP Organizer is for people who believe that they manage their lives, not the reverse. It is recommended to any person ready to change the way he or she organizes daily time. This program is for you if you feel that you can achieve more when you better manage time of your life.

VIP Organizer lets you put the first things first, keep you on the right track and become the master of your time. It's an organizer, planner, notepad and reminder combined in one powerful application. Our software:
+ helps you do the right things in right time and order
+ brings order into your life and confidence in the future
+ lets you complete tasks on time and helps you achieve goals faster
+ improves your organizing skills and saves your time and money