Software Address Organizer Deluxe download
Want a better software to manage your Web site more quickly and efficently? Click here, and start saving time today!
Create both Websites and CD DVD product catalogs with a single professional tool:
(BELOW!) FREE DOWNLOAD LINKS FOR:
Address Organizer Deluxe 4.1
Address software for Windows. Organize business or personal addresses, phones, emails, web addresses, contact notes. Easy-to-use data management features. Print address and phone books, mailing labels, forms, letters, or mail merge address documents. Send emails, capture or enter person or map image. Create customized address solutions. Features: search, filter, sort, mail merge, html reports, quick dial, handy email, database designer.
(description, more information,
click here - Address software: manage your addresses, emails, phones, WEB pages.
)
File size: 7000 Kb
Free Download link 1:
Click here to start the download for Address Organizer Deluxe (then choose Save)
WARNING: While we do our best to screen each file reviewed on CuteApps, we always suggest to scan the files with an
antivirus
before installing them (better safe than sorry).
Also, the download link was working at the time of the inclusion in this archive and when we did the last test; it is provided by the software house and sometimes can be -temporarily- offline or so.
Please
contact us with the contact form
to report difficulties, strange behaviors or persistent problems, and quote the program name or the number 18153 .
Complete address software that will help you organize personal or business addresses, emails, phones, WEB pages. Easily View, Retrieve Information: Table Viewer, Browser Viewer, Record Viewer. Easily Process Data: Report Wizard, Label Wizard.
(
Address software: manage your addresses, emails, phones, WEB pages.
)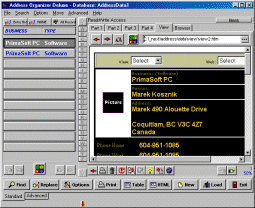 This is the download page for Address Organizer Deluxe - Address software for Windows users. Our software allows individuals, small businesses, and corporations to organize and manage all kinds of contacts and addresses. For the database novice, Organizer's intuitive interface and ready-to-use address management solutions make it easy to set up and use. Using a helper program called Designer you can create or modify address solutions that you define. Our address manager comes with flexible features such as: Access your address data in a variety of ways (database table viewer, detail record viewer, and customized html viewer). Create quality, professionally looking address documents, address books, phone books, address and phone lists, Web address and phone directories, mailing labels with color and graphics. Print customized forms, letters, or any mail merge address related documents. Easily generate data specific commands: with one click send email message, dial phone number, display web page, capture or enter person or map image. There is no limit on the number of addresses you can add and the number of databases you can manage. You can create separate customized database solution for organizing business or personal addresses. Each member of your organization can have separate accounts with unique address database solutions. Program is network compatible. Set it up on the server computer and share databases among all users on your network. There are additional address database management solutions that could be easily imported to the program through the Internet, example: vendor, contact, personnel database solutions. Other features: print report wizard, print label wizard, print customized documents, send email, database backup, password protection, sort, filter, export/import, summary/graphs, network, copy/paste record, record entry templates, copy/move record(s) to another database, and more.