Software TestLog download
Want a better software to manage your Web site more quickly and efficently? Click here, and start saving time today!
Create both Websites and CD DVD product catalogs with a single professional tool:
(BELOW!) FREE DOWNLOAD LINKS FOR:
TestLog 1.6
TestLog is an integrated test case management system. It provides a tool for test teams to create and update effective test cases. TestLog places a large emphasis on requirements management, as inefficiencies in this area are among the most serious causes of slippages, setbacks and even failures in the software product development life cycle. It encourages a structured approach to the use of test plans emphasising the reuse of test cases.
(description, more information,
click here - An integrated management environment for test cases and their requirements.
)
File size: 959 Kb
Free Download link 1:
Click here to start the download for TestLog (then choose Save)
Free Download link 2:
http://www.wrensoft.com/ftp/testlog.exe
WARNING: While we do our best to screen each file reviewed on CuteApps, we always suggest to scan the files with an
antivirus
before installing them (better safe than sorry).
Also, the download link was working at the time of the inclusion in this archive and when we did the last test; it is provided by the software house and sometimes can be -temporarily- offline or so.
Please
contact us with the contact form
to report difficulties, strange behaviors or persistent problems, and quote the program name or the number 4950 .
A software tool that provides an integrated management environment for test cases and test project requirements. It provides reports on the status and progress of a software products test cycle and projects the time remaining to complete.
(
An integrated management environment for test cases and their requirements.
)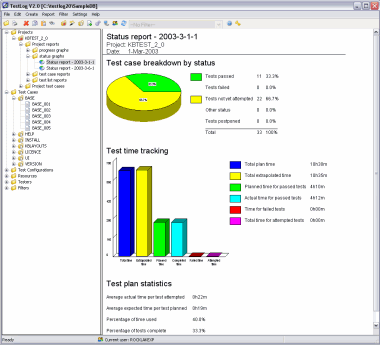 This is the download page for TestLog - One of the most important elements in today's software development life cycle is a well organized test phase. Anyone who has used computers for any length of time can testify to the amount of poorly tested software generally available today. Anyone who has worked in the software industry, particularly in quality assurance, verification or testing, knows only too well the pitfalls that accompany a poorly managed test phase.
TestLog offers an integrated management environment in which you will create and manage, not just your test cases, but your entire test plan. It offers a structured approach to the testing process, yet remains versatile enough to fit into any existing methodology. TestLog uses a lightweight XML database, which makes installation and configuration a matter of a few clicks. TestLogs inline reports quickly generate statistics, which show the progress of your project and estimate if the project is still keeping to the schedule.
Requirements management is often an enormous headache in a test environment. All too often a key employee, or a necessary piece of equipment isn't available. TestLog provides features which allow your various test requirements to be assigned to individual test cases, so you know exactly who and what are needed when.
Testlog also provides ways of exporting data to .csv, for use with any program able to import .csv files, and .html format for viewing on the web.