Software ClipMate Clipboard Extender download
Want a better software to manage your Web site more quickly and efficently? Click here, and start saving time today!
Create both Websites and CD DVD product catalogs with a single professional tool:
(BELOW!) FREE DOWNLOAD LINKS FOR:
ClipMate Clipboard Extender 7.2.03
Popular Clipboard Extender Holds Thousands of Clips, remembers clips for days, months, or even YEARS! New version adds places itself right onto the windows taskbar, and drag/drop into other programs. Save and revisit web pages, launch URLs embedded within text. Even view HTML tags as actual HTML. Powerful editing functions, such as re-formatting, editing, combining, change case, find & replace, and E-Mail Clean-Up.
(description, more information,
click here - Popular Clipboard Extender Holds Thousands of Clips, Powerful Internet Features!
)
File size: 5416 Kb
Free Download link 1:
Click here to start the download for ClipMate Clipboard Extender (then choose Save)
Free Download link 2:
http://www.thornsoft.net/dist/ClipMate.exe
WARNING: While we do our best to screen each file reviewed on CuteApps, we always suggest to scan the files with an
antivirus
before installing them (better safe than sorry).
Also, the download link was working at the time of the inclusion in this archive and when we did the last test; it is provided by the software house and sometimes can be -temporarily- offline or so.
Please
contact us with the contact form
to report difficulties, strange behaviors or persistent problems, and quote the program name or the number 8197 .
Popular Clipboard Extender Holds Thousands of Clips, across reboots. Searching, Screen Capture, editing, re-formatting, combining, change case, drag and drop, encryption, internet features, E-Mail clean-up, and even a spellchecker!
(
Popular Clipboard Extender Holds Thousands of Clips, Powerful Internet Features!
)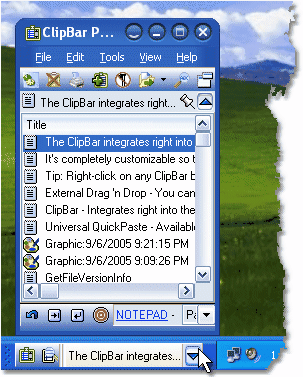 This is the download page for ClipMate Clipboard Extender - ClipMate enhances the Windows clipboard, making it a true power tool. The cut/copy paste capability of Windows works well for transferring single items of data, but is not useful if you want to move a lot of data or keep data longer than until your next cut or copy (at which time Windows overwrites the clipboard whether you were ready or not!). ClipMate works alongside the regular Windows clipboard and remembers every piece of data (both text and graphics) that you cut or copy. Once your data is in ClipMate, you can select an item and it is automatically placed back on the clipboard or directly into the application you were using. You can view, print, edit, reformat, convert to upper/lower case, search, rename, and reorder clip items. There is even a built-in spellchecker. You can create an unlimited number of collections to store your data, and you have full control over the retention rules so that your collections will fit your own work process. For example, you can use a "InBox" collection as a catch-all, and create "Safe" collections for topics like Tips n Tricks, Frequently Used Letter Closings, Clip Art, Hot Internet URLS, Project Research, or whatever you wish. ClipMate's exclusive PowerPaste allows you to rapidly paste large amounts of data with ease. New to version 7: Universal QuickPaste lets you paste any clip by double-clicking. Drag and Drop clips right into other programs. Dual-Monitor screen capture, and the new "ClipBar" places your favorite ClipMate features right into the windows taskbar.With ClipMate as your Windows companion, you will take the familiar underpowered clipboard and turn it into an unexpectedly powerful timesaver.