Software Bee Icons download
Want a better software to manage your Web site more quickly and efficently? Click here, and start saving time today!
Create both Websites and CD DVD product catalogs with a single professional tool:
(BELOW!) FREE DOWNLOAD LINKS FOR:
Bee Icons 4.0.2.2
If you like everything dull, typical and common, don't ever visit BeeIcons.com or download Bee Icons. This program is intended for all fashion-conscious PC users who are willing to go beyond desktop beauty standards and make computer desktop the ultimate expression of their style.Bee Icons allows changing over 250 system icons by applying themes to them. Your PC will stand out from thousands of boring look-alikes, generating the OOOHs and AAAHs
(description, more information,
click here - Allows changing over 250 system icons by applying themes to them
)
File size: 1803 Kb
Free Download link 1:
Click here to start the download for Bee Icons (then choose Save)
Free Download link 2:
http://www.beeicons.com/BeeIcSet.exe
WARNING: While we do our best to screen each file reviewed on CuteApps, we always suggest to scan the files with an
antivirus
before installing them (better safe than sorry).
Also, the download link was working at the time of the inclusion in this archive and when we did the last test; it is provided by the software house and sometimes can be -temporarily- offline or so.
Please
contact us with the contact form
to report difficulties, strange behaviors or persistent problems, and quote the program name or the number 8814 .
Tired of boring icons on your PC? Get Bee Icons, the best icon manager that will return the excitement to desktop by replacing standard icons. One click and you won't even recognize old desktop – bright colors, eye-catching icons, groovy look.
(
Allows changing over 250 system icons by applying themes to them
)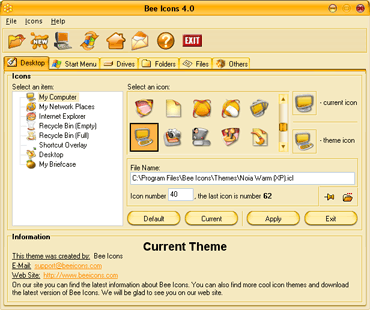 This is the download page for Bee Icons - Since picture is worth a thousand words, visit www.BeeIcons.com before reading this description. Bee Icons 4.0.2 offers more than 200 pizzazz artistic images to replace your boring Windows system icons. You can spice up Desktop, Start menu, Drives, Folders, Files and other icon types. It takes only one minute and a couple of mouse clicks! No advanced knowledge of PC is required!
In addition to 200+ icons that come with the program, there are more than 50 best icon themes
(http://www.beeicons.com/themes.php) available for FREE download. Skeptic about their diversity? Christmas, Candy, Pink PC, Industrial, XP Folders, Gadgets, Retro, Black and White,
Gooey Green, Robotic, Fruits and Veggies - these are just a few of themes available. Hey, you can have a small revolt against Bill Gates and make your PC desktop look identical to Mac OS!
You can really jazz up your PC with Bee Icons!
The great thing about Bee Icons is that it is compatible with AWIcons, one of the best icon editing tools from Lokas Software.

Want to know what people say about Bee Icons?

"I enjoy using Bee Icons. I use my PC almost exclusively for business. The ability to personalize my desktop and other screens provides some relief from my more serious work! The ready availability of new icon sets is an excellent feature, which gives me access to whatever suits my mood."
Brian Stagg,
Grantham, United Kingdom

"I am very fussy about the appearance of my PC desktop. I have used a few different icon changers and I must say that yours is the simplest and most compatible I've ever used. I love the ease of Bee Icons and the ability to change a single icon if you want."
Bub Preece,
Inez, KY