Want a better software to manage your Web site more quickly and efficently? Click here, and start saving time today!
Create both Websites and CD DVD product catalogs with a single professional tool:
(BELOW!) FREE DOWNLOAD LINKS FOR:
4t Tray Minimizer Free 4.0
4t Tray Minimizer lets you running applications minimized as System Tray icons, which helps in adjusting free space on your taskbar. To minimize any application to the task bar, simply left click the minimize button as usual or press keyboard shortcut. You can configure 4t Tray Minimizer to automatically hide/restore specific applications by pressing specific keyboard shortcuts.
(description, more information,
click here - Minimizes MS Outlook and any applications to tray
)
File size: 684 Kb
Free Download link 1:
Click here to start the download for 4t Tray Minimizer Free (then choose Save)
Free Download link 2:
http://www.4t-niagara.com/4t-min.exe
WARNING: While we do our best to screen each file reviewed on CuteApps, we always suggest to scan the files with an
antivirus
before installing them (better safe than sorry).
Also, the download link was working at the time of the inclusion in this archive and when we did the last test; it is provided by the software house and sometimes can be -temporarily- offline or so.
Please
contact us with the contact form
to report difficulties, strange behaviors or persistent problems, and quote the program name or the number 3157 .
4t Tray Minimizer lets you running applications minimized as System Tray icons. The System tray icons can be hidden to let you easily read the buttons on your taskbar. Also you can customize the favorites with special hidding behavior and launch key.
(
Minimizes MS Outlook and any applications to tray
)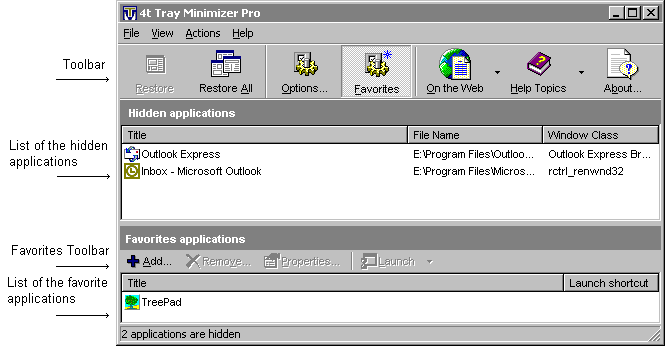 This is the download page for 4t Tray Minimizer Free - 4t Tray Minimizer lets you running applications minimized as System Tray icons, which helps in adjusting free space on your taskbar. To minimize any application to the task bar, simply left click the minimize button as usual or press keyboard shortcut. You can configure 4t Tray Minimizer to automatically hide/restore specific applications by pressing specific keyboard shortcuts.

Desktop Enhancements:
- Hides system tray icons
- Launches Desktop programs from the system tray
- 'Minimize to tray' and 'Hide window' buttons on the titlebar of any window
- 'Minimize to tray' and 'Hide window' items in the system menu of any window

Minimizing to tray:
-Minimizes to tray any application. MS Outlook, MS Outlook Express and any other application can be minimized to System tray
-Hides any application. Any application can be hidden without displaying its icon in the System tray
-One tray icon for multiple instances. This feature allows minimizing multiple instances of an application in the same tray icon
-Supports animated icons. For example, if your mail client (MS Outlook) changes the icon on the new message arrival, its tray icon changes accordingly
-Shows/Hides icons in the Alt+Tab dialog
-Hides and Restores all opening application

For your favorite application:
-Customized keyboard shortcuts for quick launching and hiding your favorite application
-Customized 'How to hide the application' options
-Customized options of behavior in the hidden mode
-The favorite application can be autohidden as soon as it is executed or as soon as it is deactivated
-Option to launch only one instance of the favorite application
-Restores and brings up. 4t Tray Minimizer allows bringing up your favorite application by pressing the customized keyboard shortcut
-Minimizes and Restores all instances of the favorite application
-Customizing tray icon. 4t Tray Minimizer allows you customizing tray icon for your favorite application