Software Sothink SWF Decompiler-Flash Decompiler download
Want a better software to manage your Web site more quickly and efficently? Click here, and start saving time today!
Create both Websites and CD DVD product catalogs with a single professional tool:
(BELOW!) FREE DOWNLOAD LINKS FOR:
Sothink SWF Decompiler-Flash Decompiler 7.4
Leading Flash decompiler and Flash to html5 converter. Converts SWF to HTML5/FLA/FLEX. Easily extracts Flash resources like shape, image, sound (mp3, wav), video (flv), text, sprite, ActionScript, etc; Imports SVG & edits shape elements; Replaces image/ text/sound elements; Supports Flash CS3/CS4/CS5/CS6 and ActionScript 2.0/3.0; Able to get XFL file from Flash CS5 SWF; Exports SWF resources in batch; One-click online Flash capture and downlo
(description, more information,
click here - Leading SWF Decompiler & Flash to HTML5 converter; convert SWF to HTML5/FLA/
)
File size: 44447 Kb
Free Download link 1:
Click here to start the download for Sothink SWF Decompiler-Flash Decompiler (then choose Save)
Free Download link 2:
http://www3.sothink.com/download/swfdec.exe
WARNING: While we do our best to screen each file reviewed on CuteApps, we always suggest to scan the files with an
antivirus
before installing them (better safe than sorry).
Also, the download link was working at the time of the inclusion in this archive and when we did the last test; it is provided by the software house and sometimes can be -temporarily- offline or so.
Please
contact us with the contact form
to report difficulties, strange behaviors or persistent problems, and quote the program name or the number 10555 .
A high-performance Flash decompiler and Flash to HTML5 converter. You can convert SWF to HTML5 and SWF to FLA/FLEX; Extract Flash resources; Edit SWF by editing the shape elements or replacing image/text/sound elements; Get XFL from Flash CS5 SWF.
(
Leading SWF Decompiler & Flash to HTML5 converter; convert SWF to HTML5/FLA/
)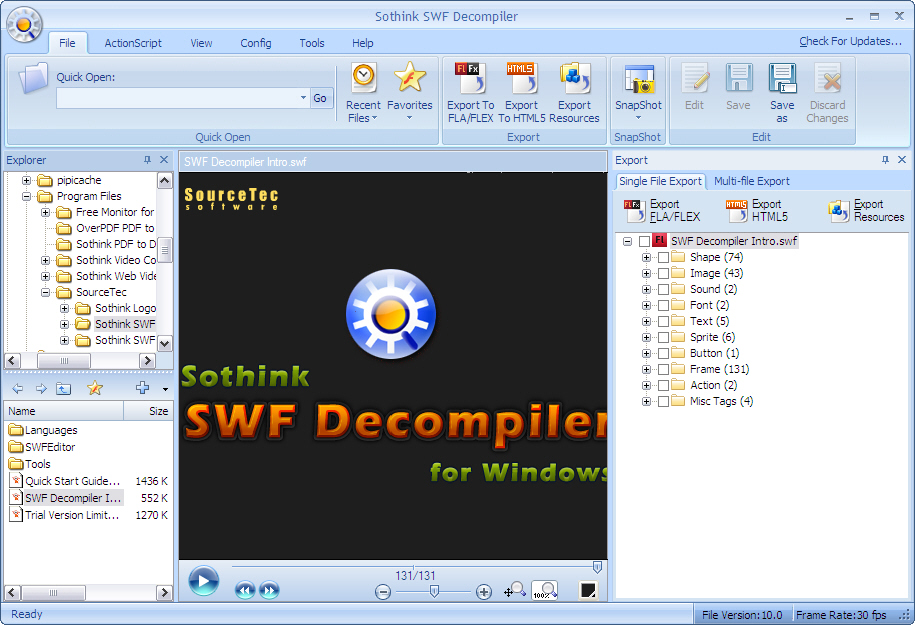 This is the download page for Sothink SWF Decompiler-Flash Decompiler - Sothink SWF Decompiler is a comprehensive solution for Flash fans to use as: SWF to HTML5 converter, SWF to FLA converter, SWF to FLEX converter, SWF elements extractor, and online Flash downloader.

You can easily convert the whole SWF to HTML5 files, convert SWF to FLA or FLEX project, import SVG & edit shape elements in SWF, replace image/ text/sound elements for SWF, and extract Flash resources like shape, image, sound (mp3 or wav), video (flv), frame, font, text, button, sprite, ActionScript, etc.

This Flash decompiler supports Flash CS3/CS4/CS5/CS6 and ActionScript 2.0/3.0, you can easily get XFL file from Flash CS5 SWF. A built-in Flash player is available for you to play SWF/FLV/F4V smoothly.

It offers multi-language interfaces: English, German, French, Traditional Chinese, Italian and Korean. SWF Catcher is provided for you to capture and save online Flash from IE or Firefox.

Main Features:
Industry-leading Flash Decompiler
(1) Convert SWF to HTML5 files
(2) Convert SWF to FLA
(3) Convert SWF to FLEX project
(4) Extract SWF elements
(5) Edit shape elements in SWF
(6) Support Portuguese;
(7) Replace image/shape/text/sound for SWF
(8) Get XFL from Flash CS5 SWF
(9) Extract SWF from Flash EXE
(10) Add Sothink SWF Catcher, which helps to capture all Flash around.

Full Compatibility
(1) Support Flash CS3/CS4/CS5/CS6
(2) Support ActionScript 2.0/3.0
(3) Compatible with Windows 8
(4) Support Flash components

Powerful Flash Decompile Capability
(1) Decompile SWF in batch mode
(2) Decompile the standard EXE made by Adobe Flash
(3) Browse resources in preview window before SWF decompile
(4) Show AS Class structure like folder-tree according to its path in package when decompiling AS3.0. Support displaying multi-byte code in AS window
(5) Globally search all ActionScript()Export ActionScript file in AS, BIN or HTML
(6) Export FLV video from Flash

Useful Assistance
* Provide SWF Catcher to download Flash from IE or Firefox