Software reaConverter download
Want a better software to manage your Web site more quickly and efficently? Click here, and start saving time today!
Create both Websites and CD DVD product catalogs with a single professional tool:
(BELOW!) FREE DOWNLOAD LINKS FOR:
reaConverter 7.3.43
reaConverter is a convenient and user-friendly batch image converter sporting support for no less than 545 input formats and 56 output formats. The simple and clean interface provided by this bulk image converter makes it easy to use even for novices, and it provides a whole wealth of additional features including numerous batch editing and modification options.
(description, more information,
click here - reaConverter is a powerful batch image converter supporting 545 input formats
)
File size: 167809 Kb
Free Download link 1:
Click here to start the download for reaConverter (then choose Save)
WARNING: While we do our best to screen each file reviewed on CuteApps, we always suggest to scan the files with an
antivirus
before installing them (better safe than sorry).
Also, the download link was working at the time of the inclusion in this archive and when we did the last test; it is provided by the software house and sometimes can be -temporarily- offline or so.
Please
contact us with the contact form
to report difficulties, strange behaviors or persistent problems, and quote the program name or the number 20845 .
reaConverter is the ultimate bulk image converter, providing support for an incredible 545 input formats and 56 output formats. Unlike almost any other batch image converter, this one also provides numerous batch editing features.
(
reaConverter is a powerful batch image converter supporting 545 input formats
)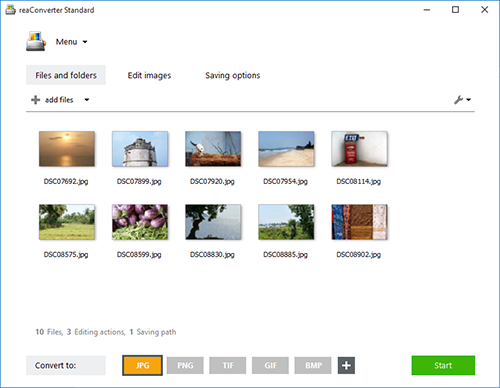 This is the download page for reaConverter - reaConverter is a powerful batch image converter which allows you to convert multiple images between a huge variety of different formats in a single operation. The bulk image converter provides immense support for different formats, so you can use it to open and convert any image of any format you are ever likely to encounter, including both rare and obsolete formats. In total, 545 input image formats are supported as well as 56 output formats.

Supported formats include all of the standard and advanced formats, RAW formats used by professional digital photographers, Microsoft Office Document formats including DOC, DOCX and RTF, CAD and AutoCAD formats and a whole lot more.

In addition to standard bulk image conversion features, you can also edit multiple images in one hit, including resizing, mirroring, applying filters and watermarks and much more. If you are looking for the ultimate batch image converter, then reaConverter is the solution you should be looking for.

The new update of reaConverter 7 lets creative people do what they should - create - taking the most of routine operations upon itself. The feature is called Watch Folders, and that's what it does: watches folders containing images for new or modified files
and instantly applies predefined actions to them. Working invisibly in the background, reaConverter's Watch Folders feature allows a user to resize, crop, adjust brightness and colors, add watermarks and otherwise alter images of 400+ supported formats that landed in the specified source folder.

You can find out more at reaconverter.com and download a trial version or purchase the bulk image converter today.