Software Able Photo Slide Show download
Want a better software to manage your Web site more quickly and efficently? Click here, and start saving time today!
Create both Websites and CD DVD product catalogs with a single professional tool:
(BELOW!) FREE DOWNLOAD LINKS FOR:
Able Photo Slide Show 2.10.10.12
Have you ever wanted to see all the digital photos and other graphic files without opening each up individually? Able Photo Slide Show displays your graphic files continuously without you doing anything. You just point it to a file in folder, say how long to display each picture, select transition effects and then sit back and watch. If a picture is too large or less for your screen, it is resized to fit. It can also create standalone slide show.
(description, more information,
click here - Display all images as a slide show. Executable slideshow,web gallery,screensaver
)
File size: 21327 Kb
Free Download link 1:
Click here to start the download for Able Photo Slide Show (then choose Save)
Free Download link 2:
http://www.graphicregion.com/photoslideshow.zip
WARNING: While we do our best to screen each file reviewed on CuteApps, we always suggest to scan the files with an
antivirus
before installing them (better safe than sorry).
Also, the download link was working at the time of the inclusion in this archive and when we did the last test; it is provided by the software house and sometimes can be -temporarily- offline or so.
Please
contact us with the contact form
to report difficulties, strange behaviors or persistent problems, and quote the program name or the number 1656 .
Able Photo Slide Show is a program designed to display all images as a slide show using many transition effects, each image being shown for some predetermined time before going on to the next. Program allows to browse, edit, convert and print images.
(
Display all images as a slide show. Executable slideshow,web gallery,screensaver
)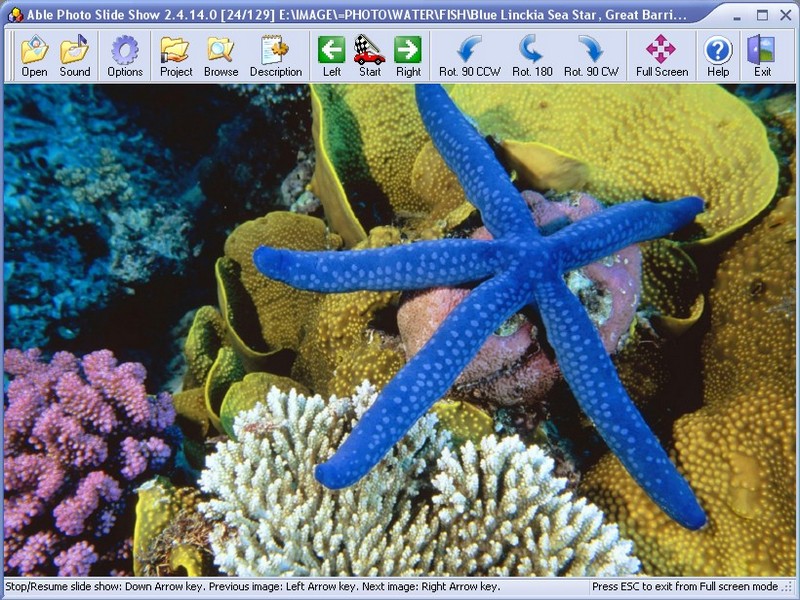 This is the download page for Able Photo Slide Show - Able Photo Slide Show displays your images continuously without you doing anything. You just point it to a file in folder, say how long to display each picture, select transition effects and then sit back and watch. If a picture is too large or less for your screen, it is resized to fit keeping the aspect ratio. Able Photo Slide Show features: - Load up multiple formats of images including tif, tiff, fax, gif, jpg, jpeg, jpe, pcx, bmp, dib, rle, ico, cur, png, wmf, emf, tga, targa, vda, icb, vst, pix, pxm, ppm, pgm, pbm ... - View the slideshow with 150 transitional effects (with preview). - Full screen mode. Preview the images while loading up the list. - Project manager. - Able Photo Slide Show allows you to create standalone executable slide show and web gallery. - Description Manager. Addition and viewing of the graphic files description. The information is stored directly in files with expansions JPG, JPEG, JPE, TIF, TIFF, FAX, G3N, G3F, TGA, TARGA, VDA, ICB, VST, PIX, GIF, PXM, PPM, PGM, PBM. - You would not need to worry about different image dimensions or file type as Able Photo Slide Show would resample the images on-the-fly prior to loading them up on screen. - The panel for display of the files description. - Start and Stop buttons. - Viewing selected items or all items in the current folder. - Sequence options (forward, reverse, and random). - Repeat slide show option. - Slide delay adjustment. - Background color or images selection. - Transition delay adjustment. - HotKey buttons (Front, Back, Stop, Start, Exit from full screen mode) - Sound Playback WAV, MID and MP3). Synchronization slides with audio. Sound recording. - Image Browser. Allows to perform normal viewing functions and file management tasks (rename, move, copy, delete, e-mail ...) - Removing the Red Eye effect - Color mode converting and adjusting. - Effects (Negative, Bupmap, Lens, Wave, Morph, User filter) - Converting to Adobe PDF, PostScript PS, EPS