Software Cone Penetration Test Software - NovoCPT download
Want a better software to manage your Web site more quickly and efficently? Click here, and start saving time today!
Create both Websites and CD DVD product catalogs with a single professional tool:
(BELOW!) FREE DOWNLOAD LINKS FOR:
Cone Penetration Test Software - NovoCPT 3.0
NovoCPT software conducts cone penetration test interpretation by estimating soil properties such as friction angle, relative density, fines content, shear wave velocity, Gmax, clay sensitivity, OCR, undrained shear strength, soil behavior type (SBT), Ic, Ko and more. Other features include Soil liquefaction analysis, Shallow footing settlement/bearing analysis, Pile bearing capacity analysis (LCPC), Soil behavior types, Reports
(description, more information,
click here - Analysis of cone penetration test,pile bearing,settlement analysis, liquefaction
)
File size: 13630 Kb
Free Download link 1:
Click here to start the download for Cone Penetration Test Software - NovoCPT (then choose Save)
WARNING: While we do our best to screen each file reviewed on CuteApps, we always suggest to scan the files with an
antivirus
before installing them (better safe than sorry).
Also, the download link was working at the time of the inclusion in this archive and when we did the last test; it is provided by the software house and sometimes can be -temporarily- offline or so.
Please
contact us with the contact form
to report difficulties, strange behaviors or persistent problems, and quote the program name or the number 22622 .
NovoCPT is designed for processing CPT files and calculating soil parameters such as friction angle, relative density, unit weight, fines content, shear wave velocity, Gmax, clay sensitivity, OCR, undrained shear strength, soil behavior type (SBT)
(
Analysis of cone penetration test,pile bearing,settlement analysis, liquefaction
)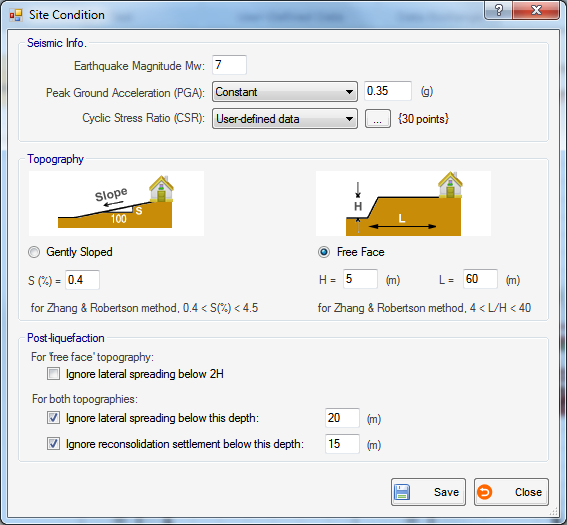 This is the download page for Cone Penetration Test Software - NovoCPT - NovoCPT is designed for processing cone penetration test data and estimation of soil parameters such as friction angle, relative density, unit weight, fines content, shear wave velocity, Gmax, N60, clay sensitivity, OCR, undrained shear strength, soil behavior type (SBT), Ic, at-rest earth pressure coefficient Ko and more.

NovoCPT covers soil Behavior Types:
1- Robertson 1990
2- Robertson 1986
3- Jefferies & Been 2006

Engineering analysis tools:
1- Liquefaction analysis with full report and exporting the results to Excel and image formats
2- Shallow footing bearing / settlement analysis (consolidation and elastic) based on Terzaghi and Schmertmann methods, with full report and exporting the results to Excel and image formats
3- Pile bearing capacity analysis (LCPC method) with full report and exporting the results to Excel and image formats

All reports can be printed or exported to Excel or image format. The preferences page allows user choose the favorite methods for data interpretation.

For more information visit novotechsoftware geotechnical-software/cone-penetration-test-software