Software AV Webcam Morpher download
Want a better software to manage your Web site more quickly and efficently? Click here, and start saving time today!
Create both Websites and CD DVD product catalogs with a single professional tool:
(BELOW!) FREE DOWNLOAD LINKS FOR:
AV Webcam Morpher 2.0.53
Webcam Morpher gives you the power of controlling and managing your image online in all video chat sessions. Its giant library of "nickfaces" and "nickvoices" helps you to totally change your image and voice. Its audio and video effects library creates the most unique and impressive video chat experience. You can "move" from one place to another by using its Background Changing feature, and a Share Clip module allows you to share your video clips
(description, more information,
click here - Webcam chat software helps you taking control over your image in cyberspace
)
File size: 15950640 Kb
Free Download link 1:
Click here to start the download for AV Webcam Morpher (then choose Save)
WARNING: While we do our best to screen each file reviewed on CuteApps, we always suggest to scan the files with an
antivirus
before installing them (better safe than sorry).
Also, the download link was working at the time of the inclusion in this archive and when we did the last test; it is provided by the software house and sometimes can be -temporarily- offline or so.
Please
contact us with the contact form
to report difficulties, strange behaviors or persistent problems, and quote the program name or the number 19281 .
Webcam Morpher brings you the most impressive video chat experience ever. You can 'dazzle' your image, 'draw' a new person, or giggle in new voice with online friends. It is a powerful tool for doing video chat online and sharing video clips
(
Webcam chat software helps you taking control over your image in cyberspace
)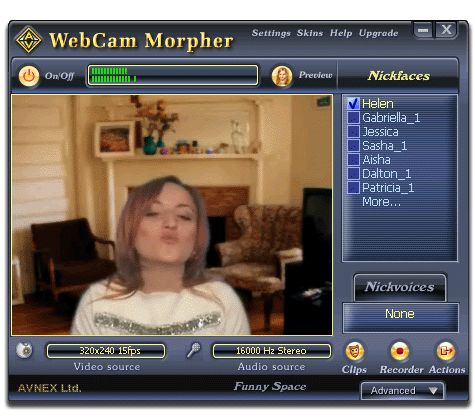 This is the download page for AV Webcam Morpher - AV Webcam Morpher is the most advanced web camera chat tool in cyberspace. Simply equip your computer with Webcam Morpher; you don't even have to own a webcam! Webcam Morpher will play the role of a web camera on your computer. And if you do have one, it also knows how to handle your device smoothly. Webcam Morpher has a huge nickface library of up to 30 nickfaces from which you can choose your 'face'. It also has a large nickvoice library with 10 nickvoices from which you can choose your 'voice'. And if you are not pleased with what it offers, you can create your own nickfaces using its Nickface Maker Module. You will have total control over your voice when you use its Morph feature. In case you do not like your current webcam background, or you want to show your living room to online friends, just take the picture of the room and set it as the background for your nickface. The included video and audio effects will allow you to apply many great effects to your chat. Do many enhancements to the shape, the surface, and the color of your video. You can twist the image or make radio-like effects while talking, and many more. Webcam Morpher can also help you share your favorite video clips with friends online with its Share Clip feature. And last but not least, to save the memories of your chatting sessions, let Webcam Morpher's built-in Recorder record both your video and voice chat. The software works well with many webcam and voice chat clients such as Yahoo Messenger, Sky, MSN Messenger, AOL Instant Messenger, as well as with PC2Phone programs like Net2phone, Dialpad, Go2Call, DeltaTree, and MaxPhone. Want to be a cute girl? Want to have the loveliest voice ever? That's not a problem any more if you have Webcam Morpher installed in your computer. With AV Webcam Morpher, you will have the power of total control over your image and voice online.