Software Email Forensics Tool download
Want a better software to manage your Web site more quickly and efficently? Click here, and start saving time today!
Create both Websites and CD DVD product catalogs with a single professional tool:
(BELOW!) FREE DOWNLOAD LINKS FOR:
Email Forensics Tool 4.6
Email Forensics Tool enables the users to execute the technique of analysis email header of different email applications such as PST, EDB, MBOX, THE BAT, SEA MONKEY etc. Forensic search emails can also be done effortlessly with forensic analysis of emails tool as it has the instant search facility to search email evidences through Contacts, To, Bcc, Cc, Sub, Body etc & attached files to it. To view an email in html code is also viewable.
(description, more information,
click here - Email Forensics Tool Competent of Executing Forensic Email Analysis
)
File size: 61849 Kb
Free Download link 1:
Click here to start the download for Email Forensics Tool (then choose Save)
Free Download link 2:
http://123dl.org/dl/setup-mail-xaminer.exe
WARNING: While we do our best to screen each file reviewed on CuteApps, we always suggest to scan the files with an
antivirus
before installing them (better safe than sorry).
Also, the download link was working at the time of the inclusion in this archive and when we did the last test; it is provided by the software house and sometimes can be -temporarily- offline or so.
Please
contact us with the contact form
to report difficulties, strange behaviors or persistent problems, and quote the program name or the number 20037 .
Email Forensics Tool comprises of examining the forensic email evidences systematically to get to the root cause of it cyber forensic case. Practice of analysis email header is only feasible with this forensic analysis of emails software.
(
Email Forensics Tool Competent of Executing Forensic Email Analysis
)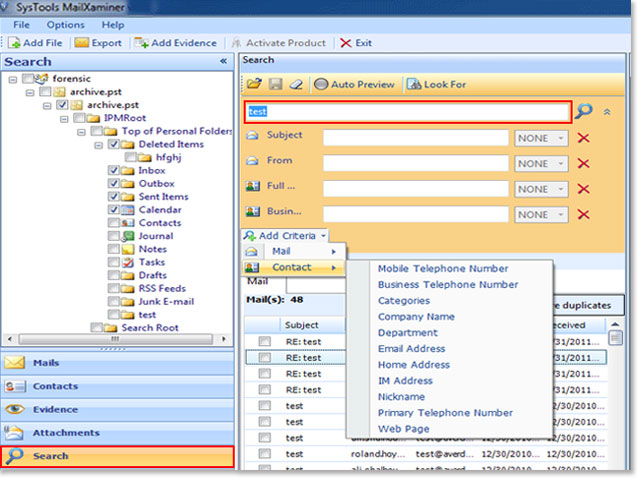 This is the download page for Email Forensics Tool - Email Forensics Tool includes analyzing the forensic email evidences email header to the nucleus as there might be chances of alteration of the email header. Forensic analysis of emails is a not a solution for the forensic investigators however it has became an necessity for the users as this electro cyber crime activities are evolving rapidly. For a spoofed emails or forge emails forensic investigation this email header analysis tools technique plays the vital role as it analyzes the whole email messages comprehensively. On the other hand forensic email analysis allows one to view and analyze the source code of email evidences like HEX, RTF, HTML, MIME, PROPERTIES VIEW etc. Forensic search emails can be easily done by Contacts, To, Bcc, Cc, Sub, Body etc. of an email and attachments to it. Analysis email header even enables to view an email in HTML code, MIME, RTF etc. Email header analysis tool even provides multiple ways to collect forensic email evidences either by exporting the evidences to the device location or else by converting the evidences into EML, MSG, PDF, TIFF and HTML files correspondingly.
Free Demo: - Get the FREE DEMO of MailXaminer Software for next 15 days.
Full Version: - Get the FULL VERSION of MailXaminer Software for whole lifetime with unlimited usages of it at an affordable price of $1600.