Software InJoy Firewall download
Want a better software to manage your Web site more quickly and efficently? Click here, and start saving time today!
Create both Websites and CD DVD product catalogs with a single professional tool:
(BELOW!) FREE DOWNLOAD LINKS FOR:
InJoy Firewall 3
Forget about old-generation and run-off-the-mill commercial firewalls. This multilayered next-generation Firewall is the FEEL-GOOD multi-purpose product you have been looking for. It readies you for the future through cutting-edge Deep Packet Inspection, unique MULTI-PLATFORM support, and IPSec VPN support. Its unparalleled network monitoring turns you into an INSTANT SECURITY PROFESSIONAL with unique real-time insight into any network activity.
(description, more information,
click here - Easy, All-in-one Deep Packet Inspection Firewall/VPN with Multi-Platform Support
)
File size: 2428 Kb
Free Download link 1:
Click here to start the download for InJoy Firewall (then choose Save)
Free Download link 2:
http://www.fx.dk/download/win/ijfire.exe
WARNING: While we do our best to screen each file reviewed on CuteApps, we always suggest to scan the files with an
antivirus
before installing them (better safe than sorry).
Also, the download link was working at the time of the inclusion in this archive and when we did the last test; it is provided by the software house and sometimes can be -temporarily- offline or so.
Please
contact us with the contact form
to report difficulties, strange behaviors or persistent problems, and quote the program name or the number 7763 .
Next-generation Deep Packet Inspection Firewall with unique MULTI-PLATFORM support, powerful IPSec VPN capability, and the ULTIMATE multilayered defense. Install this multi-purpose, feel-good product and become an INSTANT SECURITY PROFESSIONAL today.
(
Easy, All-in-one Deep Packet Inspection Firewall/VPN with Multi-Platform Support
)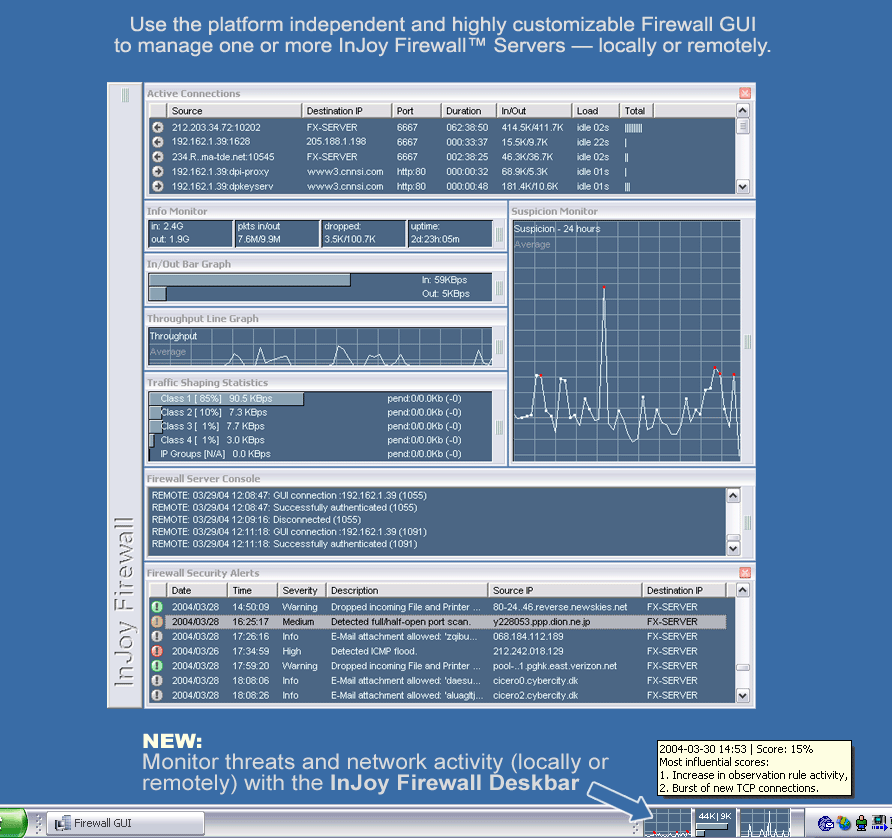 This is the download page for InJoy Firewall - This MULTI-PLATFORM Firewall is the easy, multi-purpose security application you have been looking for. It utilizes next-generation IDS technology to deliver enterprise-class Deep Packet Inspection, Application Layer vulnerability protection, and intelligent Intrusion Prevention.

Forget about run-of-the-mill commercial firewalls and expensive hardware devices. InJoy Firewall is what the name implies; a powerful "feel-good" product - easy for the average user, and a MUST-HAVE for advanced users. Install it and become an INSTANT SECURITY PROFESSIONAL with complete authority over your Internet connection and real-time transparent insight into almost any network activity.

InJoy Firewall is the ONLY Firewall in the security market that offers a total end-to-end multi-platform software solution. It solves the overwhelming problems related to managing multi-vendor security devices, now making it easier than ever to build enterprise-wide IPSec VPNs and set up identical cross-platform end-point security.
The intuitive user interface is highly customizable, allowing you to efficiently control and manage Firewall Servers - locally or remotely, and even across OS Platforms. In addition, A HOT NEW TOOLBAR application enables you to casually keep an eye on the "intrusion score", while preserving desktop space for other work.

InJoy Firewall is the ultimate firewall solution for organizations of all sizes. Put an end to the cost, confusion and complexity of managing multiple security devices. Use the power and simplicity of InJoy Firewall Pro to take control of your network security today.

Basic features include: 10+ Pre-configured Security Levels, Internet Gateway support, IPSec VPN tunnels, Bandwidth Management, Web Filtering, E-mail SMTP Server Protection, Remote Management, comprehensive rule-based Packet Filtering, PPPoE, and much more...