Want a better software to manage your Web site more quickly and efficently? Click here, and start saving time today!
Create both Websites and CD DVD product catalogs with a single professional tool:
(BELOW!) FREE DOWNLOAD LINKS FOR:
Net Monitor for Employees Professional 5.6.15
This employee monitoring software allows you to see live screens of remote computers or show you screen to employees. You can take control of a remote computer by controlling the mouse and keyboard. This way, you can always watch what users are doing on the remote computer. Additionally you can also record employee screens. With this activity monitoring software you can turn off, restart, hibernate.... remote computers with one click.
(description, more information,
click here - Employee Monitoring Software that is easy to install and use. No registration.
)
File size: 38090 Kb
Free Download link 1:
Click here to start the download for Net Monitor for Employees Professional (then choose Save)
Free Download link 2:
https://networklookout.com/dwn/nmemplpro.exe
WARNING: While we do our best to screen each file reviewed on CuteApps, we always suggest to scan the files with an
antivirus
before installing them (better safe than sorry).
Also, the download link was working at the time of the inclusion in this archive and when we did the last test; it is provided by the software house and sometimes can be -temporarily- offline or so.
Please
contact us with the contact form
to report difficulties, strange behaviors or persistent problems, and quote the program name or the number 21656 .
The Net Monitor for Employees is employee monitoring software that allows you to see screens of remote computers or show your screen to employee. This activity monitoring software allows you to take full control of your employee remote computers.
(
Employee Monitoring Software that is easy to install and use. No registration.
)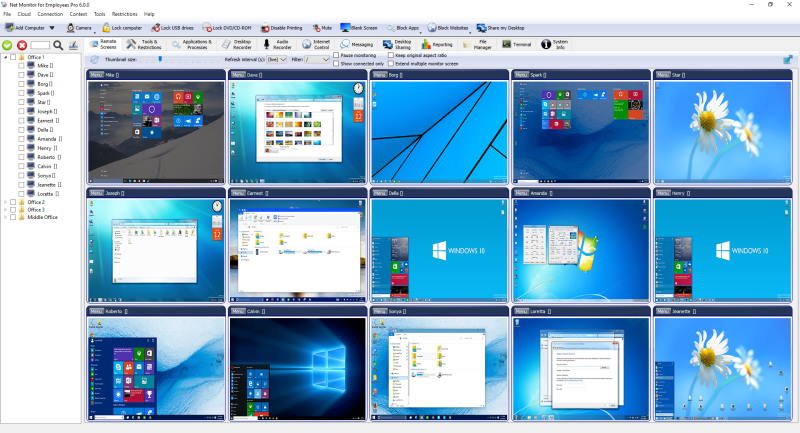 This is the download page for Net Monitor for Employees Professional - Net Monitor for Employees is advanced employee monitoring software that lets you see what everyone's doing - without leaving your desk. Monitor the activity of all the PCs in your company remotely. Plus you can share your screen with your employees PCs, making demos and presentations much easier.

Easy Step-by-step installation takes only 5 minutes! No registration is needed. Start tracking employee activity today to improve productivity.

Here are major benefits of using our employee monitoring software:

-Installation and use of the application is very easy since all of the functions can be accessed with a few mouse clicks.

-You have complete control over what remote users are doing.

-This software provides you with a live picture of the remote computer screens.

- You can make the presentation by showing your live screen to students or presenting student screen to others.

- Application allows you to take over the remote computer by controlling its mouse and keyboard.

- The remote computers screens are represented in the table with a customizable number of rows as thumbnails.

- Schedule remote computers desktop recording to MPEG4 files

- Execute several actions on all remote computers with on click

- Block applications

- Internet blocking

- Log visited web sites

- Log application use

- Keystroke logger (keylogger app)

- Send and Collect files

- RDP Screen Recorder

- Remote Desktop Control

- Share Desktop

...and much more - see feature list and screen-shots

Application now runs on Android, iOS and Windows Phone too.