Want a better software to manage your Web site more quickly and efficently? Click here, and start saving time today!
Create both Websites and CD DVD product catalogs with a single professional tool:
(BELOW!) FREE DOWNLOAD LINKS FOR:
True BoxShot 2.1
True BoxShot is an easy tool to create high quality 3D Box, 3D Text, Vista Box, Book or DVD Case. The first thing that you potential customers encounter when they meet your product is the boxshot. Take full advantage of this first impression by presenting a professional boxshot! Quality rendering, high resolution rendering (up to 4000x4000), customizable background, soft shadows and reflection, print functionality. You may also export animation.
(description, more information,
click here - True BoxShot is an easy tool to create quality boxshot of your software cover.
)
File size: 3886 Kb
Free Download link 1:
Click here to start the download for True BoxShot (then choose Save)
Free Download link 2:
http://www.trueboxshot.com/files/TrueBoxShot2Setup.zip
WARNING: While we do our best to screen each file reviewed on CuteApps, we always suggest to scan the files with an
antivirus
before installing them (better safe than sorry).
Also, the download link was working at the time of the inclusion in this archive and when we did the last test; it is provided by the software house and sometimes can be -temporarily- offline or so.
Please
contact us with the contact form
to report difficulties, strange behaviors or persistent problems, and quote the program name or the number 17132 .
True BoxShot is the ultimate solution to present your software box cover electronically! It is an easy tool to create quality 3D Software Box, 3D text, Book, 3D Photo, DVD Case, CD, iPad, iPhone and many others
(
True BoxShot is an easy tool to create quality boxshot of your software cover.
)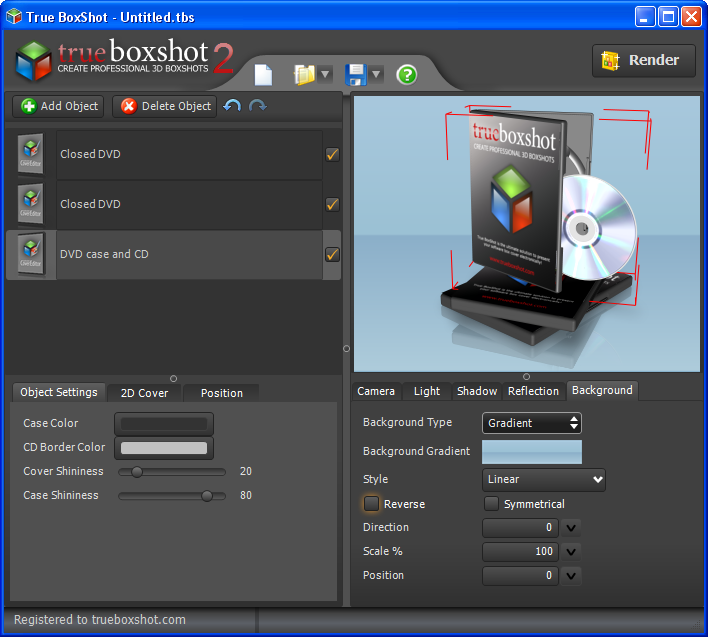 This is the download page for True BoxShot - ith sub pixel accuracy rendering without fuzzy edges. It features customizable backgrounds that enable the integration of your soft box image in any picture. True BoxShot supports full 3D rotation with optional drop shadows and reflection effects. You can customize the dimensions of the box, as well as size and intensity of shadows and effects, and preview the changes in real-time. True BoxShot has advanced high resolution rendering with possibility to create up to 3000x3000 pixel images. The Soft Shadows and Light enhances the three dimensional feeling of the boxshot image and gives additional positive impression through Soft Reflection. The Wireframe makes it possible to show the contour of the boxshot in cases where the colour of your software box is similar to that of the background. The transparency feature allows you to use the boxshot image with alpha channel in complex compositions and therefore you can take full advantage of .PNG images!