Want a better software to manage your Web site more quickly and efficently? Click here, and start saving time today!
Create both Websites and CD DVD product catalogs with a single professional tool:
(BELOW!) FREE DOWNLOAD LINKS FOR:
Wondershare PPT to BlackBerry 4.7.0
Wondershare PPT to BlackBerry is a professional PowerPoint to BlackBerry video converter. It can convert PowerPoint presentations to BlackBerry AVI video formats with the best quality
(description, more information,
click here - Professional tool to convert PowerPoint to BlackBerry video
)
File size: 5530 Kb
Free Download link 1:
Click here to start the download for Wondershare PPT to BlackBerry (then choose Save)
WARNING: While we do our best to screen each file reviewed on CuteApps, we always suggest to scan the files with an
antivirus
before installing them (better safe than sorry).
Also, the download link was working at the time of the inclusion in this archive and when we did the last test; it is provided by the software house and sometimes can be -temporarily- offline or so.
Please
contact us with the contact form
to report difficulties, strange behaviors or persistent problems, and quote the program name or the number 17277 .
Wondershare PPT to BlackBerry is a professional PowerPoint to BlackBerry video converter. It can convert PowerPoint presentations to BlackBerry AVI video formats with the best quality
(
Professional tool to convert PowerPoint to BlackBerry video
)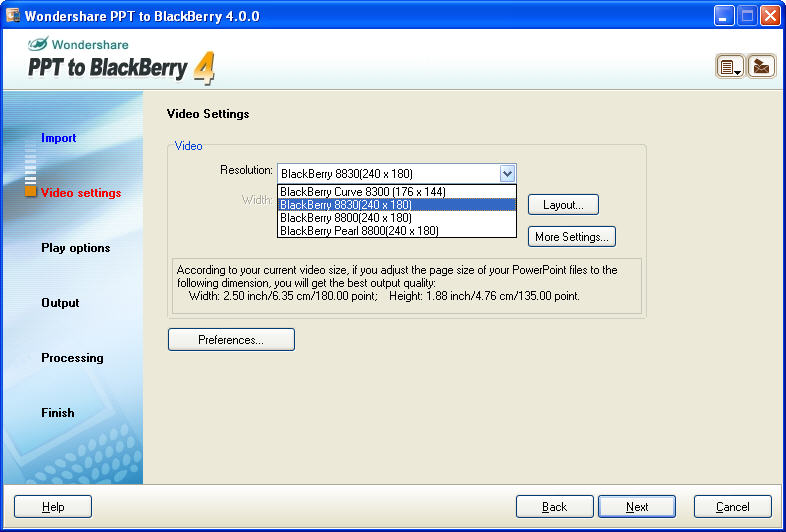 This is the download page for Wondershare PPT to BlackBerry - Wondershare PPT to BlackBerry is a professional PowerPoint to BlackBerry video converter. It can convert PowerPoint presentations to BlackBerry AVI video formats with the best quality.
With Wondershare PPT to BlackBerry you can:
Convert PowerPoint to BlackBerry AVI video and watch your presentation without MS PowerPoint ®
Transport the resulting video to your BlackBerry to watch your presentation on your video BlackBerry
Send your PowerPoint presentation video by email no matter whether they have PowerPoint.
Key features of Wondershare PPT to BlackBerry
1. Video Capability
Support output to BlackBerry AVI video
Support multiple video resolution: 320*240 480*270 480*320 640*480
Support video layout setting to adjust the output video size to fit the screen
Flexible video quality control option
2. Audio Capability
Record sounds from the original PowerPoint files
Record sounds from your computer speaker
3. Conversion Capability
Batch conversion: up to 9 PowerPoint files can be converted at a time
Option to transport to BlackBerry directly when conversion finished
Option to shut down the computer when conversion finished