Software AV Video Karaoke Maker download
Want a better software to manage your Web site more quickly and efficently? Click here, and start saving time today!
Create both Websites and CD DVD product catalogs with a single professional tool:
(BELOW!) FREE DOWNLOAD LINKS FOR:
AV Video Karaoke Maker 1.0.28
AV Video Karaoke Maker helps quickly create a karaoke. It supports importing a wide range of input formats for video, audio, images and lyrics: avi, mpeg, wmv, asf, mov, wma, mp3, ogg, wav, jpeg, bmp, txt, rtf, etc.; drag the words inside the waveform chart to adjust the synchronization forward or backwards; and export the project to an AVI or WMV file. AV Video Karaoke Maker is compatible with Windows Vista and its predecessors
(description, more information,
click here - Add lyrics, images and video to sync with the music of a song to make a karaoke
)
File size: 5726 Kb
Free Download link 1:
Click here to start the download for AV Video Karaoke Maker (then choose Save)
WARNING: While we do our best to screen each file reviewed on CuteApps, we always suggest to scan the files with an
antivirus
before installing them (better safe than sorry).
Also, the download link was working at the time of the inclusion in this archive and when we did the last test; it is provided by the software house and sometimes can be -temporarily- offline or so.
Please
contact us with the contact form
to report difficulties, strange behaviors or persistent problems, and quote the program name or the number 16951 .
Video Karaoke Maker is a program that makes karaoke from music, lyrics, and images or video files. It supports a wide range of input video, audio and image formats, as well as output video formats. It also features a wave chart for karaoke editing
(
Add lyrics, images and video to sync with the music of a song to make a karaoke
)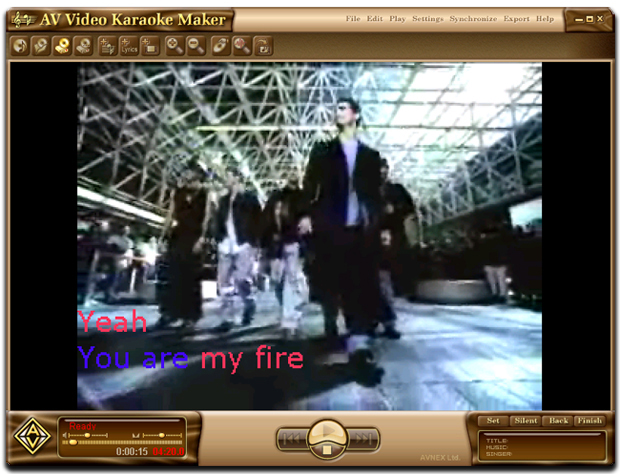 This is the download page for AV Video Karaoke Maker - AV Video Karaoke Maker is a standalone karaoke-mastering tool for home karaoke enthusiasts. AV Video Karaoke Maker includes the following features: create a new karaoke project or open a previously saved karaoke project; import sounds and lyrics, video or static backgrounds from different formats; synchronize lyrics and sound; preview the current karaoke project; and export the karaoke project to one of many different video formats (with different video and audio codecs). AV Video Karaoke Maker helps you to quickly create a karaoke. It supports importing a wide range of formats: avi, mpeg, wmv, asf, mov, wma, mp3, ogg, wav, jpeg, bmp, txt, rtf, etc.; dragging the words inside the waveform chart allows you to adjust the synchronization forward or backwards; zooming in or out the sound spectrum view lets you view more of the file; and exporting the project to an AVI or WMV file for later viewing. Lyrics can be displayed in any font, color, and size, and placed anywhere on the screen. The output karaoke can be played with all multimedia players, including Windows Media Player, Winamp, RealOne Player, Music Match, Music Jukebox, PowerDVD, WinDVD, Zoom Player, BlazeDVD, and Hero DVD Player. AV Video Karaoke Maker is compatible with Windows Vista and its predecessors. The free version has no limitation but requires a free key to activate it. AV Video Karaoke Maker also offers a user-friendly interface with a professional-looking skin