Software Total Video2Dvd download
Want a better software to manage your Web site more quickly and efficently? Click here, and start saving time today!
Create both Websites and CD DVD product catalogs with a single professional tool:
(BELOW!) FREE DOWNLOAD LINKS FOR:
Total Video2Dvd 3.30
Auto Convert and Burn MKV, Blu-ray TS, M2TS, AVCHD M2T, HDV1080i, Divx, Rm, Wmv, Avi to DVD Video Disc directly. Support Importing Any HD Video Formats Now! Total Video2Dvd (Old name E.M. AVI to DVD) is an easy-to-use disc authoring and burning software which includes a powerful video converter engine for DVD that lets you do more with your standard or High-Definition digital media.
(description, more information,
click here - Convert, Author and Burn Youtube Flv, Divx, Ts, M2TS, Mkv, HDV, Wmv, Avi to DVD
)
File size: 14795 Kb
Free Download link 1:
Click here to start the download for Total Video2Dvd (then choose Save)
WARNING: While we do our best to screen each file reviewed on CuteApps, we always suggest to scan the files with an
antivirus
before installing them (better safe than sorry).
Also, the download link was working at the time of the inclusion in this archive and when we did the last test; it is provided by the software house and sometimes can be -temporarily- offline or so.
Please
contact us with the contact form
to report difficulties, strange behaviors or persistent problems, and quote the program name or the number 16488 .
Convert, Author and Burn 8 hours Blu-ray M2TS, AVCHD, M2T, Mkv, Youtube Flv, Avi, Divx, Xvid, Rm, Wmv, Mpeg, Mp4, Mov, MPEG2, Directly to DVD Disc, Support .srt . sub .ssa .ass .smi .psb .tex .idx subtitle; Support all high-def video formats now!
(
Convert, Author and Burn Youtube Flv, Divx, Ts, M2TS, Mkv, HDV, Wmv, Avi to DVD
)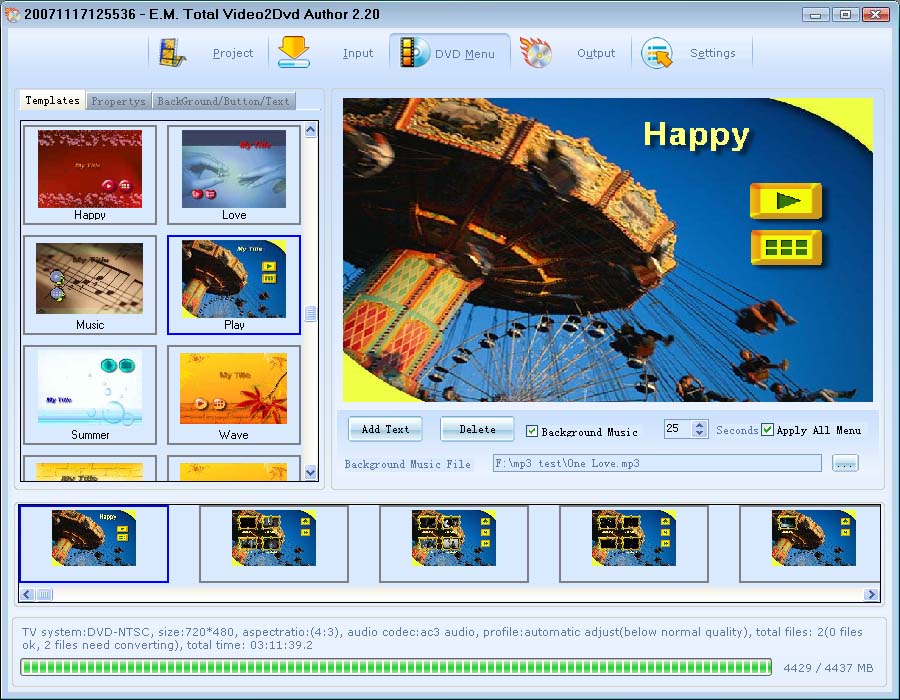 This is the download page for Total Video2Dvd - Total Video2Dvd- Auto Convert and Burn MKV, Blu-ray TS, M2TS, AVCHD M2T, HDV1080i, Divx, Rm, Wmv, Avi to DVD Video Disc directly.- Support Importing Any High-Def Video Formats Now!Total Video2Dvd (Old name E.M. AVI to DVD) is an easy-to-use disc authoring and burning software which includes a powerful video converter engine for DVD that lets you do more with your standard or High-Definition digital media. It creates standard DVD discs with studio-quality personalized menus. Total Video2Dvd converts any High-Definition video formats such as HD-DV, MKV, Blu-ray TS, TP, M2TS, AVCHD, WMV-HD, HD avi to DVD and all other popular video formats Youtube FLV, Xvid avi, Mov, Rmvb, Rm, Divx, Wmv, Asf, VOB, DV, 3gp, Ogm, Mpeg, Mpeg4, AVI to DVD formats.One drag-drop and one mouse-click do all your job, very easy to use. This means that you only need drag and drop any formats videos to GUI of Total Video2Dvd and then burn the files to DVD directly.Total Video2Dvd Main Functions: * Support High-Definition video formats such as HD-DV, MKV, Blu-ray TS, TP, M2TS, AVCHD, WMV-HD, hd- avi to DVD. * Support most popular formats such as Youtube Flv, RM, RMVB, 3gp, h264, Xvid, MOV, VOB, Mpeg, Mpeg4, WMV, ASF, DV, Nsv, Ogm, AVI to DVD; * Support lots of subtitle file formats, including .srt . sub .ssa .ass .smi .psb .tex .idx etc; Handles subtitles files (.srt) color and font. Supports tags; * Good compatibility for AVI to DVD conversion: DIVX avi to DVD, XVID avi to DVD, H264 avi to DVD, Mpeg4 avi to DVD, HuffYUV avi to DVD, Uncompressed avi to DVD etc; * Auto intelligent video bit rate setting supporting 1 hour to 8 hours video per DVD disc; * Support lots of beautiful DVD menu templates; * Convert video files into a compliant DVD and burns to DVD disc, also can create ISO image files. * Multi-language GUI- English, Spanish, Italiano, French, Chinese;