Want a better software to manage your Web site more quickly and efficently? Click here, and start saving time today!
Create both Websites and CD DVD product catalogs with a single professional tool:
(BELOW!) FREE DOWNLOAD LINKS FOR:
DocuVieware 2.0.65
DocuVieware is a fully-featured HTML5 viewer and document management SDK for ASP.NET. It is zero-footprint, cross-platform and mobile friendly. The features included are: more than 100 file formats viewing, document navigation, TWAIN acquisition, thumbnails, PDF bookmarks, PDF form fields, annotations, search engine, text and area selection, zooming, rotation, file printing and saving, Unicode support, automatic UI localization and more.
(description, more information,
click here - DocuVieware is a universal HTLM5 viewer and document management kit.
)
File size: 124660 Kb
Free Download link 1:
Click here to start the download for DocuVieware (then choose Save)
WARNING: While we do our best to screen each file reviewed on CuteApps, we always suggest to scan the files with an
antivirus
before installing them (better safe than sorry).
Also, the download link was working at the time of the inclusion in this archive and when we did the last test; it is provided by the software house and sometimes can be -temporarily- offline or so.
Please
contact us with the contact form
to report difficulties, strange behaviors or persistent problems, and quote the program name or the number 22345 .
DocuVieware is the fastest HTML5/AJAX viewer on the market: document (images and PDF) loading and navigation is made easy thanks to innovating features. Customize the interface and tools like text search, annotations, PDF bookmarks, thumbnails...
(
DocuVieware is a universal HTLM5 viewer and document management kit.
)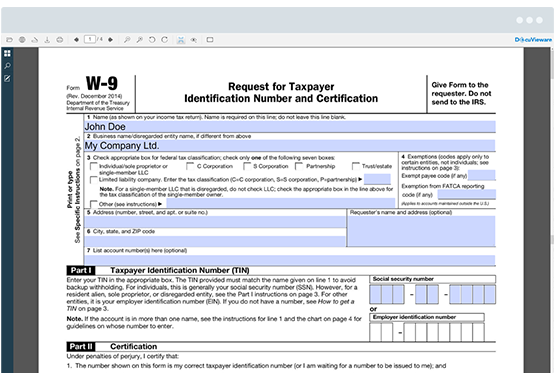 This is the download page for DocuVieware - DocuVieware is a fully-featured and universal HTML5/AJAX control for ASP.NET to view and manage documents on the web. It is zero-footprint, cross-platform and mobile friendly thanks to its responsive design.
In addition the User Interface is fully customizable and full Unicode support is provided.
The document Imaging capabilities for DocuVieware include:
- Support of more than 100 file formats
- Document processing support
- Access to over 3000 GdPicture.NET imaging features
- Built-in annotations
- TWAIN acquisition support
- PDF Form fields support
- Support for custom Snap-ins

This fully-featured Viewer also provides the following functionalities:
- Document navigation, zooming & page rotation
- Document printing and saving
- Text selection
- Area selection
- Thumbnails Snap-in
- Powerful text search Snap-in
- PDF Bookmarks Snap-in
DocuViewares efficient Architecture also provides high-level performance optimizations while being very easy to integrate with just a few lines of code.

On the server side, the integrator can interact with DocuVieware by the means of its .NET API. Client-side interactions can be customized through DocuVieware Javascript API.