Software .NET Barcode Professional download
Want a better software to manage your Web site more quickly and efficently? Click here, and start saving time today!
Create both Websites and CD DVD product catalogs with a single professional tool:
(BELOW!) FREE DOWNLOAD LINKS FOR:
.NET Barcode Professional 7.0
Barcode for Windows Forms .NET. Linear, Postal, MICR and 2D Symbologies. ReportViewer RDLC and Crystal Reports .NET Support. Save barcode images in image files as well as in stream objects. Full design-time support in Visual Studio and Express Eds. Draw barcode images onto any Graphics object. Serve barcode images in Web Services. High quality barcode printing (PrintDocument). Support for Binary, SOAP and XML Serialization
(description, more information,
click here - Barcode for Windows Forms .NET. Linear and 2D Symbologies. Visual Studio support
)
File size: 834 Kb
Free Download link 1:
Click here to start the download for .NET Barcode Professional (then choose Save)
WARNING: While we do our best to screen each file reviewed on CuteApps, we always suggest to scan the files with an
antivirus
before installing them (better safe than sorry).
Also, the download link was working at the time of the inclusion in this archive and when we did the last test; it is provided by the software house and sometimes can be -temporarily- offline or so.
Please
contact us with the contact form
to report difficulties, strange behaviors or persistent problems, and quote the program name or the number 16877 .
Barcode for Windows Forms .NET. Linear, Postal, MICR and 2D Symbologies. Visual Studio support. Crystal Reports .NET Support. Save barcode images in image files and in stream objects. Support for Binary, SOAP and XML Serialization, ReportViewer RDLC
(
Barcode for Windows Forms .NET. Linear and 2D Symbologies. Visual Studio support
)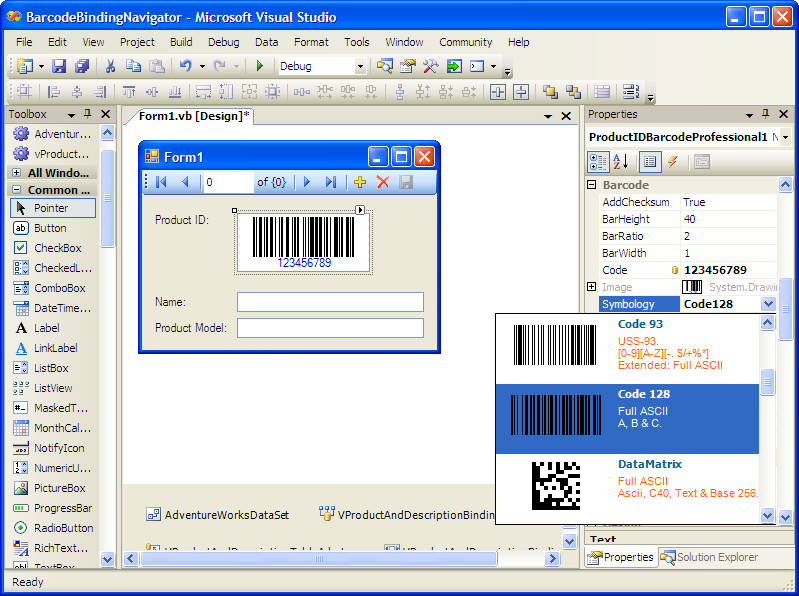 This is the download page for .NET Barcode Professional - Barcode Professional is a Windows Forms control which generates barcode images for .NET Applications. Barcode Professional can generate the most popular Linear, Postal, MICR and 2D Barcode Symbologies. Features: - Linear, Postal, MICR & 2D Barcode Symbologies -- ReportViewer RDLC and Crystal Reports for .NET support - Save barcode images in image files as well as in stream objects - GIF, BMP, PNG, JPEG-JPG, EPS & TIFF barcode image formats support - Full design-time support in Visual Studio 2005/2008/2010, Visual Studio Express Editions (Visual Basic, Visual C#) - .NET Data Binding support, high quality printing PrintDocument. Supported Barcode Symbologies - Australia Post 4-state Barcode, ABC Codabar, USS Code 128 A-B-C, USS Code 39, USS Code 93, Data Matrix ECC200, Deutsche Post Identcode, Deutsche Post Leitcode, EAN-13, GTIN-13, EAN-8, GTIN-8, EAN-99, Coupon Barcode, EAN-Velocity, Industrial 2 of 5, Standard 2 of 5, Interleaved 2 of 5, ITF 25, ISBN, Bookland EAN, ISBN-13, ISBN-10, ISMN, ISSN, ITF-14, EAN-14, DUN-14, GTIN-14, JAN-13, JAN-8, MSI, OPC, PDF417, Portable Data File 417, PDF417 Truncated, PLANET, POSTNET, PZN, British Royal Mail 4-State Customer Barcode, RM4SCC, Royal TPG Post KIX 4-State Barcode, SCC-14, Singapore 4-State Postal Code Barcode, SSCC-18, UPC-128, EAN-18, Swiss PostParcel Barcode, UCC-EAN-128, EAN-128, GTIN-128, UPC-A, UPC-E, GTIN-12, USPS Sack Label, USPS Tray Label Barcode, QR Code, USPS FIM, USPS Horizontal Bars, Telepen, Pharmacode, Semacode, Code 32 Italian Pharmacode IMH, USPS Package Identification Code (PIC), FedEx Ground 96, HIBC LIC/PAS, ISBT 128, Italian Post 25, USPS Intelligent Mail Barcode, VICS BOL, VICS Bill of Lading, VICS SCAC PRO, Aztec Code, Compact PDF417, Macro PDF417, Micro PDF417, Micro QR Code, UPS MaxiCode, GS1 DataBar, RSS-14, Matrix 2 of 5, Danish Postal 39, French Postal 39 A/R, GS1 DataMatrix, MICR E-13-B, ALL EAN.UCC Composite Barcodes CC-A, CC-B, CC-C, USPS Intelligent Mail Container Barcode