Software Data Loader download
Want a better software to manage your Web site more quickly and efficently? Click here, and start saving time today!
Create both Websites and CD DVD product catalogs with a single professional tool:
(BELOW!) FREE DOWNLOAD LINKS FOR:
Data Loader 4.1.2
Data Loader is a simple yet powerful tool to import and export Data between many common formats. Current Data Loader Ver.4.0 supports MS SQL, MySQL, Oracle, MS Access, FoxPro, DBF's, Excel, CSV Files. You can use Data Loader to transfer data from one database format to another database format.Filter columns and specify WHERE conditions. It supports Long Data types. Transfer data without any coding. Now you can also save and Schedule Sessions
(description, more information,
click here - A simple tool to export, import, migrate and convert databases and CSV files.
)
File size: 3167 Kb
Free Download link 1:
Click here to start the download for Data Loader (then choose Save)
WARNING: While we do our best to screen each file reviewed on CuteApps, we always suggest to scan the files with an
antivirus
before installing them (better safe than sorry).
Also, the download link was working at the time of the inclusion in this archive and when we did the last test; it is provided by the software house and sometimes can be -temporarily- offline or so.
Please
contact us with the contact form
to report difficulties, strange behaviors or persistent problems, and quote the program name or the number 16555 .
A simple yet powerful tool to Export, Import, Migrate and Convert data between different databases and delimited flat text CSV files. Supports Saving & Scheduling of Sessions and Repository.
(
A simple tool to export, import, migrate and convert databases and CSV files.
)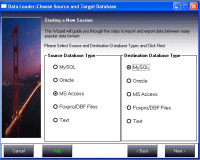 This is the download page for Data Loader - Data Loader is a simple yet powerful tool to import and export Data between many common formats. Current Data Loader Ver. 4.0 supports MS-SQL Server, MySQL, Oracle, MS Access, FoxPro, DBF's, Excel, CSV & Delimited or Flat Files. You can use Data Loader to transfer data from one database format to another database format. While transferring you can filter columns and specify WHERE conditions.It supports Long , Picture Data types. In a jiffy you can copy data without any coding.Supported O/s:Win 7, Vista, Win 2003, Win 2000, XP, Win ME,Win98 &Win95 Data Loader Ver. 4.1 can also import Constraints like Primary keys, Unique Keys and Foreign Keys. Bulk Insert support is also added for MS SQL Server. Bulk Insert will load data several times faster than conventional insert statements.Data Loader Ver. 4.0 can Synchronize databases by using UPDATE and INSERT feature. Data Loader will Update or Insert rows depending upon whether an existing row exist in the target table.Now You can load from multiple CSV / Delimited Text files and change destination table names.You can also Save and Schedule Sessions and Data Loader Scheduler will automatically executes sessions at your specified date and time.Repository is introduced in Ver. 2.0. Now you can manage all your Sessions very easily.Folder polling introduced in Ver. 3.0Data Loader will watch for files in a folder at specified intervals and then load the data from filenames matching specified pattern into tables automatically