Software HelpGear download
Want a better software to manage your Web site more quickly and efficently? Click here, and start saving time today!
Create both Websites and CD DVD product catalogs with a single professional tool:
(BELOW!) FREE DOWNLOAD LINKS FOR:
HelpGear 6.4.0.2
HelpGear is a Help Authoring Tool to create software help materials such as HTML Help, Printed Manual, PDF manual and Web Help resources. You can create HTML Help (CHM) files with HelpGear's CHM maker or a Web Help resource using a single help source. HelpGear includes an innovative Graphical and Video file management tool, built-in Word Processor with Dynamic Styles, support for Topic Templates and tools for creating Help file resources.
(description, more information,
click here - CHM, Web Help, and PDF creation is easy with an excellent help authoring tool
)
File size: 28234 Kb
Free Download link 1:
Click here to start the download for HelpGear (then choose Save)
WARNING: While we do our best to screen each file reviewed on CuteApps, we always suggest to scan the files with an
antivirus
before installing them (better safe than sorry).
Also, the download link was working at the time of the inclusion in this archive and when we did the last test; it is provided by the software house and sometimes can be -temporarily- offline or so.
Please
contact us with the contact form
to report difficulties, strange behaviors or persistent problems, and quote the program name or the number 20312 .
HelpGear lets you create HTML Help files, Web Help manuals, and PDF Manuals - the ultimate Help Authoring Software. HelpGear is easy-to-use to create help files and documentation. Creating help files is easy with HelpGear.
(
CHM, Web Help, and PDF creation is easy with an excellent help authoring tool
)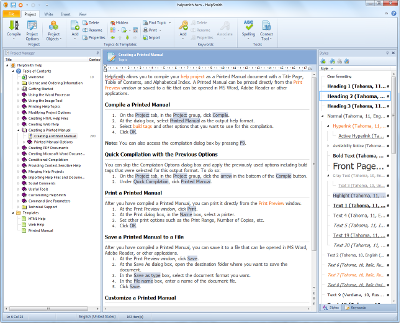 This is the download page for HelpGear - HelpGear is the ultimate help authoring tool for creating help file resources including HTML Help (CHM) files, browser based Web Help systems, Word RTF documents, Printed Manuals, PDF Manuals using a single help source. HelpGear includes a feature rich and easy-to-use toolset, including a built-in word processor with dynamic styles and spell-checker, Topic Templates, total Unicode support and an innovative graphical and video file management system, and other tools.

HelpGear lets you create help files easily. The easy-to-use GUI provides you with a state-of-the-art feature-rich toolset, including help compilers, help authoring software, CHM help creator, Web Help creator, Printed Manual creator, and tools to quickly compile an Index and Contents Table of your help system. Despite the professional array of tools and features, HelpGear's focus is on saving developers and technical writers time and money so that they concentrate on enhancing help resources.

HelpGear is a superlative help compiler no matter what help resource you are creating including PDF manuals, printed manuals, CHM file or help software content. There is no other help authoring software to compare!

HelpGear has been designed as an office application to simplify and improve the creation of help documentation. HelpGear delivers the tools to generate high-quality HTML and Web Help resources in minutes, using only one single help project which means you save time and money in developing software resources and systems. There is no need to manually code CSS or HTML to create help files and resources which are easy-to-use and professionally produced. For those who do wish to manually insert custom HTML code, there is still the option to do so. Whatever your help file and user help resource needs, HelpGear is the ultimate help authoring tool available on the market and is used by thousands of professional developers and technical writers who need to focus on their writing.