Software Software Installation Setup Package download
Want a better software to manage your Web site more quickly and efficently? Click here, and start saving time today!
Create both Websites and CD DVD product catalogs with a single professional tool:
(BELOW!) FREE DOWNLOAD LINKS FOR:
Software Installation Setup Package 2.0.1.5
Executable setup maker software keeps exe executable, txt and all relevant data files into single self extracting executable file format. Freeware setup creator gives privilege to create desktop icons, keep fasten with Windows start menu, Add Remove programs etc. Installer setup creator wizard facilitates to include the General details, Registry, Shortcuts, Dialogs, Destination path of your product while creating the setup of the software.
(description, more information,
click here - Windows setup installer builder software create installation exe package program
)
File size: 9492 Kb
Free Download link 1:
Click here to start the download for Software Installation Setup Package (then choose Save)
Free Download link 2:
http://www.setupcreator.com/downloads/DRPUSetupCreatorDemo.zip
WARNING: While we do our best to screen each file reviewed on CuteApps, we always suggest to scan the files with an
antivirus
before installing them (better safe than sorry).
Also, the download link was working at the time of the inclusion in this archive and when we did the last test; it is provided by the software house and sometimes can be -temporarily- offline or so.
Please
contact us with the contact form
to report difficulties, strange behaviors or persistent problems, and quote the program name or the number 19893 .
Professional setup creator is comprehensive exe installation maker for authoring and configuring custom made setup files to setup installer, creator generates installation package for windows applications with complete setup program into .exe format.
(
Windows setup installer builder software create installation exe package program
)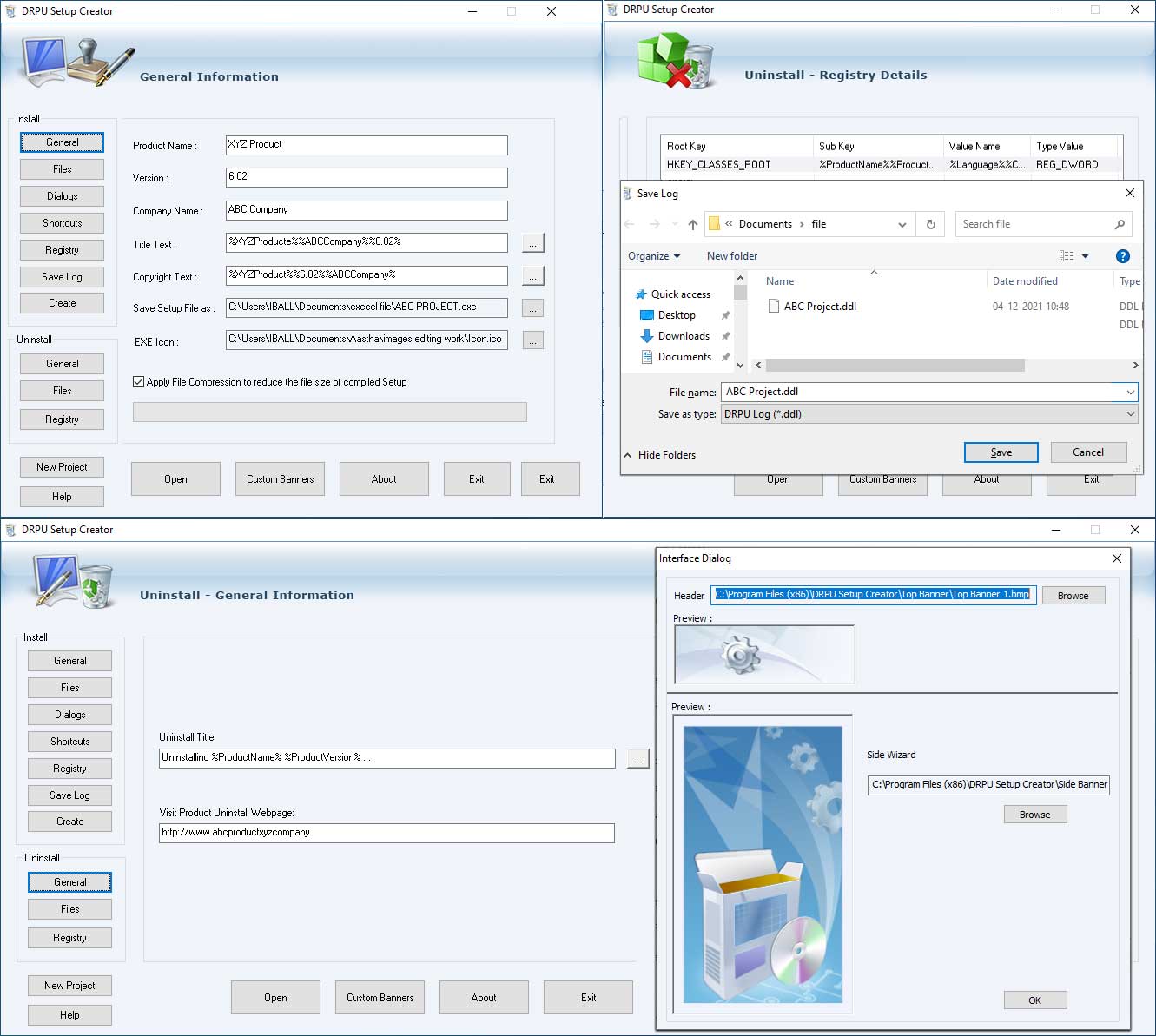 This is the download page for Software Installation Setup Package - Setup Builder is a powerful and easy to use Installation Authoring and Configuration Management environment for developers and organizations deploying applications to the Microsoft Windows Platform, including Windows Vista and Windows Server 2008. Software facilitates to add complete directory that enclosed with user Installer section, destination path, End user License Agreement, Launch Program, Program icon and screen shots with text files. MSI Setup installer uses advance deployment scenarios for configuring sources flexibility when working with program dependencies like configuring system, validating platform requirement, updating windows installer setup packages and many more. Freeware Windows's setup installer facilitates for entire installation frameworks so that user can synchronize exe file with other installers and keep the internal database of installed products consistent. Deploying an installer for any kind of software application is one of the most complex tasks you face as a developer. It should be able to guide the user through the whole setup process, allowing him to understand what he is doing about and how to manage some possible errors. It assembles and packs an install program, an uninstall program, the files to install, and the support files into a single executable file. Installer shield offers to save these information in a .ddl file format at user specified location for further future use.
Features:
* Setup creator software builds powerful, professional exe setups quickly and easily.
* Software helps you to add all files and folders of the product for which you want to create the installation package.
* Deploying set packages for user and also for system requirement.
* Configuring the best user interface level to attend installation or uninstallation of software.
* Setup installer packages can be installed on windows 98 ME XP NT 2000 and Vista operating systems.