Software 360 Total Security Free Antivirus download
Want a better software to manage your Web site more quickly and efficently? Click here, and start saving time today!
Create both Websites and CD DVD product catalogs with a single professional tool:
(BELOW!) FREE DOWNLOAD LINKS FOR:
360 Total Security Free Antivirus 7.6.0.1028
360 Total Security is a leading brand of PC security and utility. We believe a secure digital journey is priceless, and should be FREE. Our products are designed to ensure the best protection for PC against viruses, malware and other threats, as well as to provide the best optimization tools to boost the performance of the computer. Offering superior solutions for security and utility is our commitment to our users.
(description, more information,
click here - Designed to ensure the best protection for PC against viruses and malware
)
File size: 1314 Kb
Free Download link 1:
Click here to start the download for 360 Total Security Free Antivirus (then choose Save)
WARNING: While we do our best to screen each file reviewed on CuteApps, we always suggest to scan the files with an
antivirus
before installing them (better safe than sorry).
Also, the download link was working at the time of the inclusion in this archive and when we did the last test; it is provided by the software house and sometimes can be -temporarily- offline or so.
Please
contact us with the contact form
to report difficulties, strange behaviors or persistent problems, and quote the program name or the number 20746 .
Designed to ensure the best protection for PC against viruses, malware and other threats, as well as to provide the best optimization tools to boost the performance of the computer
(
Designed to ensure the best protection for PC against viruses and malware
)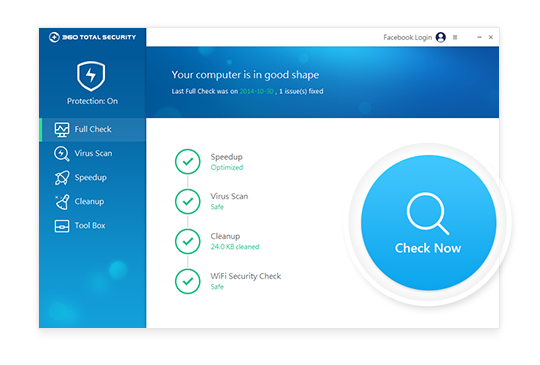 This is the download page for 360 Total Security Free Antivirus - - The FREE antivirus software chosen by more than 540 million people
- One click to get more space, speed and security
- Easy-to-use User Interface for everyone
- Real-time Protection stops virus and malware even before they reach your PC

360 Total Security is a leading brand of PC security and utility. We believe a secure digital journey is priceless, and should be FREE.

Our superior products are built not only to secure your PC against malware, virus and other types of malicious attack, but also help your system fully optimize and run more smoothly. To fulfill all your needs, we are committed to excellence in each aspect of safety

Is your PC in a good shape?
Full Check integrates award winning antivirus engines to provide you with state of the art virus detection and protection capabilities. These engines include:
- 360 Cloud Scan Engine
- 360 QVMII AI Engine
- Avira
- Bitdefender

Is your digital life slowing down?
Speedup scans and detects areas that consume precious time from your life. This feature shortens your boot time and gets things going sooner by these methods

Running out of hard drive space again?
Cleanup performs a quick analysis, detecting useless plug-ins and junk files on your system, including temporary and cache files from your OS, Web browser and Applications.

A light Antivirus you can heavily rely on:
Unlike traditional antivirus software, we dont slow your PC down with heavy virus definitions; instead, 360 Total Security requires much less ram and disk usage owing to our smart pattern. Theres no need to download a heavy virus database and keep updating it.

Protection Everywhere:
As an invisible friend, we are always with you. Wherever, whenever and whatever you are using your PC for, we aim to keep a secured environment for you.

- Online Shopping Protection
- Browser Protection
- Download Protection
- Data Hijacking Protection
- USB Drive Protection
- Webcam Protection
- Chat Protection