Software Exiland Backup Free download
Want a better software to manage your Web site more quickly and efficently? Click here, and start saving time today!
Create both Websites and CD DVD product catalogs with a single professional tool:
(BELOW!) FREE DOWNLOAD LINKS FOR:
Exiland Backup Free 4.7
Exiland Backup Free is a free and flexible automatic file backup software that allows you to backup and restore your files. This program lets you backup data to various locations: local or network drives, FTP, SSH servers, removable devices, etc. The program can as well duplicate your backups to different locations. Exiland Backup saves your disk space by compressing your data as ZIP files. Problems with long paths and unicode are solved.
(description, more information,
click here - Exiland Backup Free is a free and effective solution to backup your important da
)
File size: 5131 Kb
Free Download link 1:
Click here to start the download for Exiland Backup Free (then choose Save)
WARNING: While we do our best to screen each file reviewed on CuteApps, we always suggest to scan the files with an
antivirus
before installing them (better safe than sorry).
Also, the download link was working at the time of the inclusion in this archive and when we did the last test; it is provided by the software house and sometimes can be -temporarily- offline or so.
Please
contact us with the contact form
to report difficulties, strange behaviors or persistent problems, and quote the program name or the number 22910 .
Exiland Backup Free is a free, simple and flexible file backup and folders sync software. It lets you easily copy your important files to various locations: local or network drives, FTP,SSH servers, removable media (such as USB HDD or flash drives).
(
Exiland Backup Free is a free and effective solution to backup your important da
)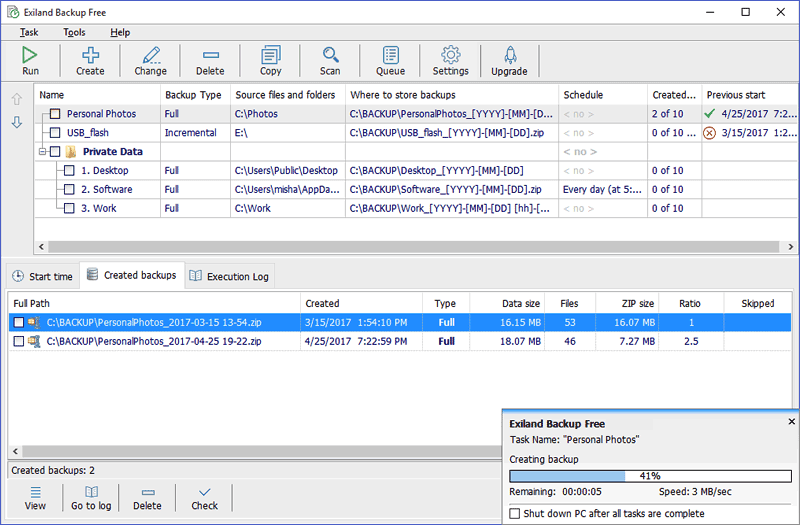 This is the download page for Exiland Backup Free - Exiland Backup Free is a free and powerful file backup software, that allows you to make backups of your important files. It is extremely easy, small and fast, taking just a little of system resources. It is an ideal backup solution for desktop and laptop computers, for your business or personal use. The program save backups to any storage locations: local or network drives, SSH, FTP, NAS servers, removable media (such as flash drives or external HDD). Exiland Backup saves your disk space by compressing the files included in backups. You can download Exiland Backup Free and use it free of charge.

MAIN FEATURES

- Four backup types: full backup, differential backup, incremental backup, and data synchronization
- Powerful file filters (masks, attributes, excluded subfolders, and so forth)
- Flexible scheduler
- Allows scheduling tasks on PC startup/shutdown or USB device connection and launching tasks manually from Windows command line
- Backs up any data: local and network files
- Sends backups as email attachments
- Standard ZIP compression
- Runs third-party programs or commands before/after the execution of a backup task
- Restores lost files
- Logs all backup operations
- Shows backup progress in the Notification Area (System Tray)
- Uses three types of notifications (e-mail, Net Send, and on-screen message)