Software iPod Recovery download
Want a better software to manage your Web site more quickly and efficently? Click here, and start saving time today!
Create both Websites and CD DVD product catalogs with a single professional tool:
(BELOW!) FREE DOWNLOAD LINKS FOR:
iPod Recovery 3.0.1.5
Recovery tool for apple iPod restore damaged data like AIFF AAC mp3 mp4 m4p m4v m4b m4a due to iTunes transfer updated music. Accidentally corrupted shuffle iPod flash memory file and folders restoration utility. Software unerase erased pictures, fetch photos like JPG JPEG GIF BMP TIFF PNG. Retrieve deleted images, recover audio video songs. Restore formatted data from nano, mini iPod lost due to hardware error, setting reset and wrong operation
(description, more information,
click here - Restore deleted iPod data iTunes transfer files songs music mp3 recovery utility
)
File size: 538 Kb
Free Download link 1:
Click here to start the download for iPod Recovery (then choose Save)
Free Download link 2:
http://www.ddimusic.com/downloads/ipod-data-recovery-demo.zip
WARNING: While we do our best to screen each file reviewed on CuteApps, we always suggest to scan the files with an
antivirus
before installing them (better safe than sorry).
Also, the download link was working at the time of the inclusion in this archive and when we did the last test; it is provided by the software house and sometimes can be -temporarily- offline or so.
Please
contact us with the contact form
to report difficulties, strange behaviors or persistent problems, and quote the program name or the number 14220 .
iTunes accidentally updated deleted flash memory corrupted apple iPod data files folders recovery tool restore lost mini nano mp3 songs recover shuffle music retrieve mp4 m4a m4p m4b m4v format damaged AAC AIFF audio video file unerase erased images
(
Restore deleted iPod data iTunes transfer files songs music mp3 recovery utility
)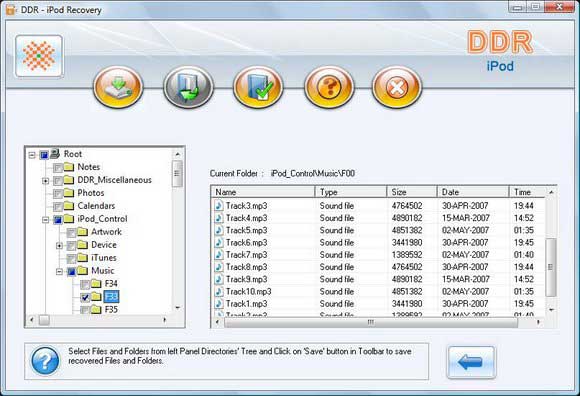 This is the download page for iPod Recovery - iPod Files Restoration Software is read only software which recover all type of music files. Software restores all iTunes transfer updated music files and folders. It recovers digital music played on iTunes player by iPod update software. This non-destructive data recovery software provides data restoration even if factory setting of your iPod has been reset. Utility provides user friendly graphical user interface (GUI). Software ensures recovery even if iPod has been formatted or files have been corrupted due to virus infection, improper handling and hardware malfunctioning. Software provides recovery from all types of iPod like Apple, shuffle, mini and nano. This tool retrieves accidentally deleted pictures, photos and images like JPG JPEG GIF BMP TIFF PNG TIFF. It restores all types of iPod files of audio and video like AAC mp3 mp4 aa m4p m4v m4b m4a. Software provides recovery of next generation iPod support windows XP 2000 ME NT 98 and windows XP media center 2005. It is easiest software that repair and fix your iPod data files.
Features:
* Provides recovery even if the media has been reset accidentally.
* Recovery is possible even if iPod has been reformatted.
* Software undeleted corrupted, damaged and inaccessible files.
* It is read only and non destructive data recovery software that ensures rescue of lost data.
* Software recovers all your deleted formatted files folders from iPod and restores them in a safe location on your desired media.
* iPod like iPod apple, iPod shuffle, iPod nano, iPod mini, Samsung, Toshiba, Sony, iPod first generation and iPod next generation can be recovered by the software.
* System utility provides recovery of audio, video songs, mp3 music, digital pictures, images and photos even they have been updated by iTunes.
* Software provides graphical user interface (GUI).
* Utility support windows XP 2K NT ME 98 2003.